Introducing...
Friday, February 01, 2013
SUB DUSK
The newest, bestest, ever super hero!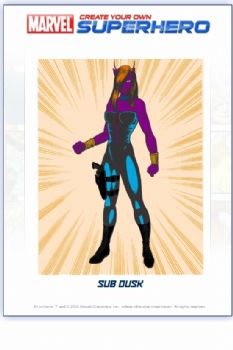 Superpower is Meditation
Weakness is Quizzes
Weapon is Your Poison Shotgun
Mode of Transportation is Pony
She is ready and willing to go out and hunt down those tremendous bad guys of extra calories, clutter and procrastination. She'll stop them cold with her poisonous shotgun! She'll get you moving no matter what the situation (After all she's got her trusty pony to get you moving giddy-up doggies. Look out world you may never ever be the same.
Weekly update:
I didn't lose anything last week but I didn't gain either so that is a win for me. I just have to focus and hunt down more clutter to destroy and move along out of my home. Getting back into a routine sort of. With working the early shift this week things have been a little challenging but I've managed to do a load of laundry every day this week so far. I have tracked all my food choices, the good, the bad and the unhealthy. So I am doing good there.
I am still walking at least 7,000 steps a day. However, it does take doing a walking video to get there. Which is not necessarily a bad thing as it also gets my exercise 20 min a day, 5 days a week challenge done. I still have to remember to add in strength training and often do that by adding weights to the walks and doing things like shoulder and chest presses along with the walk.
Although I didn't sleep Sunday and Monday nights, I have gotten to bed by 10:00 each night (which is earlier than my 10:30 weeknight goal). Sweet! Now I just have to keep this fire going over the weekend.
I am looking forward to a relaxing weekend and a more relaxed week next week with my co-worker back. I only got like 5.5 hours of overtime this week. So it's not all bad.