I would like to start by saying YES. I AM WEARING THE UGLY RED CORDUROYS TODAY.
I tried them on last night before bed, snapped a pic and sent it to my best friend. "yayyy!!"
I was accountable, and now I'm basking in the light.
No, they are not as loose as I wanted them to be. They are tight at the waist, but they go over my bum, but relatively loose in the thighs and seat :)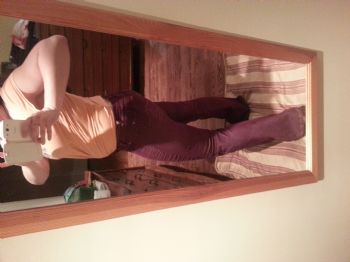 (excuse the messy room, and standing on my dog bed)
I reached 760 fitness minutes in January: that's an average of 760/31= 24.5 minutes per day.
I would like to increase that to an average of 26 minutes per day, but since there's only 28 days in Feb, that's 26*28=728 minutes this month, so I will round that up to 730- minutes as my goal for February
GOALS FOR MARCH 1ST:
1) no muffin-top oozing out of the top of the red corduroys!
2) Figure out what my issue is with weight loss, and attack that!
3) enjoy the chocolates for valentines day... moderately...
4) 730 fitness minutes in February
5) NO NACHOS!