Starting stats:
Weight: 159 lbs
Body fat: 31.1% (goal: under 30%)
Muscle mass: 30% (goal: over 30.3%)
Ending stats:
No change.
As I said in a previous post, I did actually get down to 158 lbs, then popped up to 162 lbs for no discernible reason, then dropped back to 159 lbs, remaining stuck there for the last two weeks. It's a net zero for the month, which is frustrating given the amount I SHOULD have lost going by my calorie differential. I was really hoping to be at 157 by the end of January - a 2-lb loss for the month. But no. On the bright side, I've had multiple people tell me that I look like I've lost a lot of weight this month, despite not losing pounds or inches. Not sure what that's about. NOTE: My muscle percentage has stayed the same, so no, I am not gaining muscle in exchange for fat.
A few other monthly stats:
Inches lost: -0.25 inches in my upper arm - I'm surprised I lost any.
Fitness minutes: 2356 (39:16 hrs)*
Monthly calorie differential: 11,796 (should equal 3.37 lbs - but didn't)
Steps taken: 355,348 (~158 miles)
Official walked/run miles: 80
*Fitness minute total is skewed because the Fitbit seems to pull in every tiny bit of movement I make during the day, rather than just moderate to vigorous activity. Every time I walk from, say, my living room to my bedroom, it gets recorded as a fitness minute. I would guess that I actually had closer to 1700 actual fitness minutes this month. The Fitbit was only hooked up for the last five days of the month. I have no idea what my fitness minutes for February will look like...
Pull-up status: I was almost up to a full pull-up at the beginning of the month, but due to shoulder injury, this goal is on hiatus until the end of February.
NSVs and January Highlights:
I made some huge leaps in running this month! Before 2013, I had never run more than 3.5 miles nonstop. This month I did several long runs, including my first 10K. I also walked/ran a half-marathon with my local Sparkteam, which was awesome! Beyond that, it was great to be treated as a runner and athlete by a stranger at my local running shop. In non-running NSVs, I discovered that I now fit into a single leg of my "before" jeans. Woohoo! Also, while I apparently didn't lose any weight or real inches this month, my body seems to be changing shape - my shadow is going all hourglass, which makes me smile. :D
I had some great moments out on my neighborhood walks this month as well. On MLK Day, I took my boys out walking, and we found a (real) $100 bill on the sidewalk. !!! We tried to find the owner, but couldn't, so it paid for my new Fitbit. :D Also, I was able to rescue a dog and reunite him with his owner this month, and now I frequently get to see the two of them when I'm out walking. :)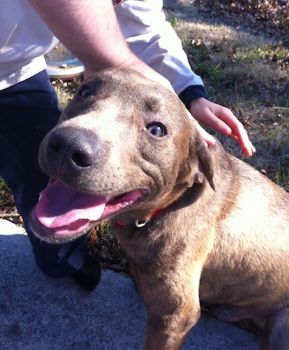 I've got big plans for February, but I'm not going to talk about them until the end of the month - I don't want to jinx myself. :D I promise I'll let you all know in a few weeks. I have exactly four weeks left until my 34th birthday. I would REALLY like to be at a healthy weight (154 lbs) by then, or at least at 100 lbs lost (155 lbs), but that's a really HUGE stretch for me considering I've only been losing 0-2 lbs per month for the last 16 months. Still, I'll do whatever I can to get as close as possible! I hope to have good news to report on March 1st. :)