Friday, February 01, 2013
I started BLC 21 as one of the captains for the Violet Venus team. Can I just say I love the close-net atmosphere of our team? From the beginning, we have been offering love and support. It's not just about the numbers with this team, but how we are doing day to day that is important. As part of BLC 21, I also signed up for the 12-week streak, which is going strong after 2 weeks.
Exercise in general has been pretty good. I'm up to 10,000+ steps somewhat consistently on work days, especially if I work out afterwards. A little more of a struggle on the weekends to get steps in. I've also been able to do 5 days a week workouts since the month/year started. Yay!!!
Over in facebook land I've been a part of a photo-a-day challenge (also sharing the photos on my blog:
vinotea.wordpress.com
). The challenge was created by someone known as Fat Mum Slim (
fatmumslim.com.au
) and by posting pictures, I get to see what its like at a beach in the middle of summer (there's a lot of Australians in the group, as that's where she's from). Here is a collage of my photos from January: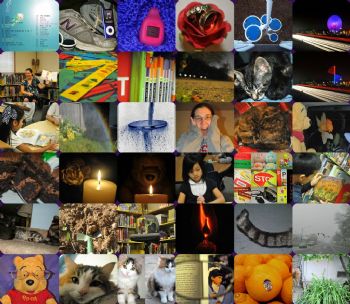 Umm, I think that's all the big stuff to report. I'll check in with you again at the end of next month (if not sooner).