January's Progress Report
Thursday, January 31, 2013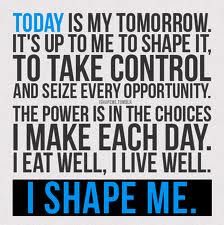 Here is my progress report for January 2013:
1. Completed Detox
2. Weight Loss: 10 pounds
3. 10 lunges per leg/10 squats each time you go to the restroom Challenge: 110 Lunges per leg/110 Squats
4. 7-8 hour per day of sleep: 27 out of 31 days
5. Days of taking vitamins daily: 30 out of 31 days
6. Being a friend to myself weekly: 7 times this month
The Daily Mile Challenge was a serious challenge for me. Will do better with workouts in February.
I'm going to keep progressing and moving forward! I can do this and I will continue to do this! Looking forward to February's Challenge and Progress Report!