Thursday, January 31, 2013
Today my new veggie spiralizer came in the mail--Woo-Hoo!! --and I couldn't WAIT to try it out!. So for lunch we had raw "pasta" and marinara sauce. The pasta is made from zucchini, but I spiraled some carrot too, because I was trying out my new toy.
This is the "pasta". It had the right shape but was light and slightly crunchy and fresh tasting:
The sauce was fresh tomatoes, garlic, onion, fresh oregano, basil, and rosemary.
It smelled incredible!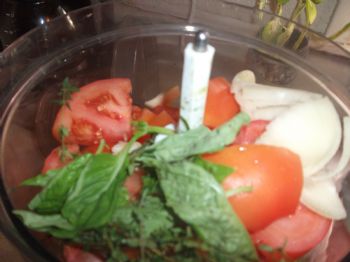 I just put all that stuff in my food processor and pureed it. If I would have had beets, I'd have added just a tiny bit, to color the sauce. This is the final product, I sliced up some bitty little tomatoes to go on top.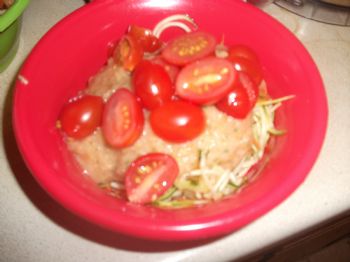 I didn't track the calories but basically its just a veggie salad, and the sauce is more veggies just blended up, so it couldn't have been much.
I'm really having fun with these recipes.
Oh yeah, and since I found my carrot burgers that I like a lot, I went ahead and made us one of the more robust nut burgers. My sons loved them! =)