Thursday, January 31, 2013
Just finished my (late) lunch and took a picture. Figured I'd add it in while it was still fresh on my tongue. Delicious taco salad made from arugula, carrots, Lighten Up! Italian dressing, Greek yogurt, and leftover peppers/chicken tacos. YUM!!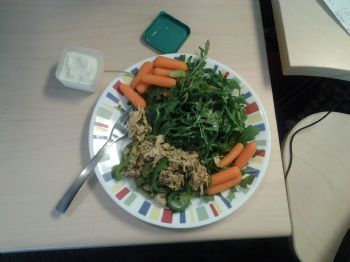 One thing I'll add is that when I was serving this up, I was reminded of one of my very best kitchen purchases -- the ceramic frying pan. These are the new versions of the non-stick pans and I have to tell you, it's so awesome, even my husband (nickname: Stampy) treats it like a precious gem. Mostly, we're worried about scratching or denting the coating so we just treat it with care. And most importantly, when I saute things, I don't even need to use any oil. I do because I feel like it helps brown things up but the non stick capacity of these pans are awesome! I definitely recommend checking them out if you want to try using less grease to fry things.
Bon Appetit!