Weighed in this morning at 213.2, -.6 from last week and -6.8 lbs for January. SO CLOSE to the halfway mark (211.5), a goal for another month.
Doing the math, to reach my goal of 170 by my birthday, I will have to lose ~8 lbs/month. This is a big number, especially to be this far into weight loss, but I will do my best! If I, instead, lost 5 lbs/month, I would be at 185 for my birthday - still AWESOME!
So yesterday I wanted to take pictures of my food and document what I was actually eating. I took a few pics, but then felt self conscience, so here is a half-photo food blog.
I have the same thing for breakfast every morning, 2 eggs (the super expensive organic kind, they really do taste better!) and a plate of fruit. Today I have 2 kiwi, 1 cup strawberries, 0.5 cup raspberries, and 0.5 cup blackberries. I would normally top this with a banana, but we were out today. I don't measure the fruit, I assume 1 handful = 0.5 cup.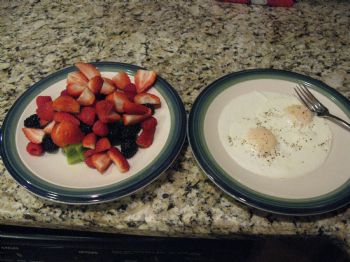 I always eat this breakfast with at least 2 cups of water, sometimes 4.
Before I leave for work, I make my coffee. I had 2-3 TBSP of coffemate and often add a stivia packet depending on how strong the coffee is. I count the coffee as part of my breakfast.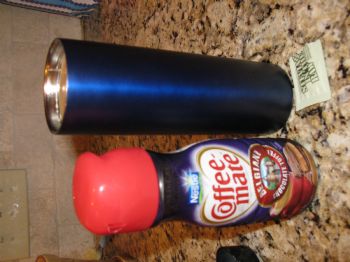 So yesterday's breakfast was around 430 calories, it is normally 530 with a banana. I aim for a 500 calorie breakfast. If I don't have a big one, I get hungry before lunch. I normally eat right at 6am and I can eat lunch anytime between 11 and 1 so I want to make sure I am not starving before then. I take the coffee with me and sip it for an hour or more. The only thing that changes with breakfast is the fruit. Today, I had almost everything I like, but sometimes at the end of the week I am down to just an apple or just a banana. I eat so much fruit, I buy it at costco every Saturday.
Lunch yesterday was unusual. I usually do soup and salad, but my co-workers wanted something different yesterday so we went to a vietnamese place. I had the tofu claypot.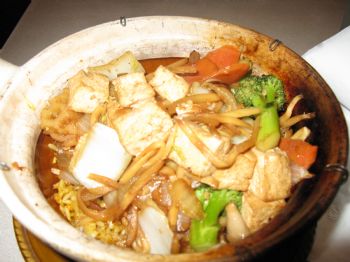 It was delicious! It is rice cooked in a clay pot (so it gets nice and crispy on the bottom), covered with tofu, broccoli, carrots, and bamboo shoots. I didn't eat the whole thing, so I counted it as 1.5 cups of rice, 8 pieces of fried tofu, .5 cup broccoli, 0.5 cup carrots, 1 TBSP oil, 2 TBSP hoisen sauce. It came up to 850 calories. This was high for me, I aim for 500 calories at lunch, but it was really good and nice to have a hot meal on a cold day.
I also had a coffee in the afternoon with half and half and splenda. I counted the half and half as part of my dinner.
I ran yesterday afternoon (I already mentioned in my C25K complete post). I was hoping eating all those carbs at lunch would help me, but it didn't. If anything I felt sick and very thirsty.
My kids wanted to have dinner at Panera Bread after we left the Y. When Mike is out of town, we eat out most nights. I tell him that we are spending his per diem. I was hoping for black bean soup but they didn't have it yesterday. I have to say, I have fallen a little out of love with Panera. I had 1/2 BBQ chicken salad with no tortilla strips. I got it with a bowl of soup and bread, but I gave that to my youngest daughter for her dinner (she loves their broccoli cheese soup!) So dinner was very light, only 200 calories.
Around 7:30 I was hungry again and got fruit and yogurt. It was 1 cup of 0% plain greek yogurt, 1 TBSP of honey, 0.5 cup raspberries, 0.5 cup blackberries, and 0.5 cup blueberries. 342 calories total.
My total calorie intake yesterday was 1881, higher than my upper limit (1740) due to my large lunch. And of course lunch was a total guestimate, it could have been higher.