Getting Ready to Hit the Road Again...
Thursday, January 31, 2013
WHAT a whirlwind week! We've gotten to the fitness center for all our normal classes this week and did a 6-mile walk last Sunday. It felt great. We also had a leak in our roof and a mysterious car problem that took several days to diagnose, but all problems are now solved and we are ready to leave early tomorrow for Massachusetts to see that Grandbaby!!
We LOVE Skype and have been able to "visit" with Rebecca almost every day. I was so pleased that my Mom and Dad were also able to see the baby via Skype. What a blessing technology can be!
I won't be able to rely on exercise as much while we are gone, so I've got to depend on eating sensibly. I've already told my daughter and mother that we do NOT want big or fancy meals. They both agreed -- DD with a new baby, Mom with a sick husband -- in fact, they were both relieved.
I'm going to pack my cooler full of veggies and healthy snacks, and hope that my plan to eat sensibly while traveling pans out! Normally at the end of a full day in the car I feel I "deserve" a decadent meal. Which is doubly stupid since I've exerted about zero energy! I'll let you know how I do.
OH! Here's a few new picture of the grandbaby!
This is the 0-3 month snowsuit they PLANNED to bring her home in!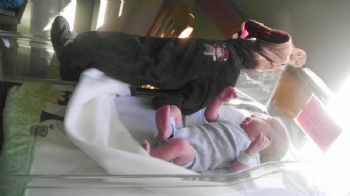 My handsome SIL with the baby.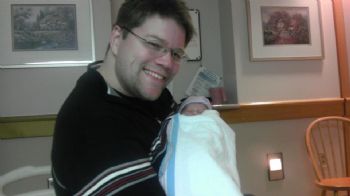 Sleeping (he's 6 feet 6 inches, she's 18 inches!!)