Thursday, January 31, 2013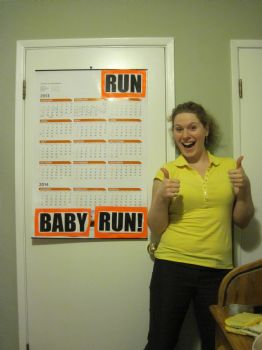 Thar she blows!!!! Do you like that I have covered up the company branding on the freebie calendar with pieces of an old half marathon cheering-squad poster? Ardith, do you recognize it? Yes, I kept it. Yes, it moved with me! Sorry I cut it up, but it's on display, repurposed, now!
I have filled in January (what I did) and Feburary (what I plan to do). Here's Feb, colour coded of course: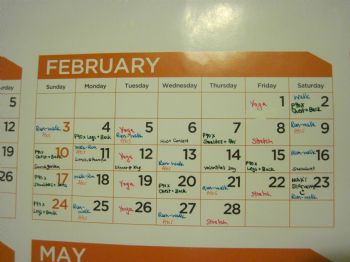 As you can see (or not, depending on how the resolution turns out), I am carrying on with weekly yoga at the office (pink) and the Learn to Run / Return to Run program (blue), which is three runs a week, with Max and/or my cousin most of the time. I am adding in core work (orange) after two runs per week - either generic core stuff or P90X "AbRipperX" DVD (which is 15 minutes of sit-up hell). I am also adding in two P90X strength workouts per week (green), which I believe will fast-track my body into the shape I was in before. I miss feeling strong, and am craving it pretty bad these doughy days.
That pretty much fills 'er up. We'll see how well I can stick to a plan like this, and how tough it will be to push dinner back until 7-ish on days I work out after work. I'll definitely have to pack a 4:30 snack!
I'm still working on going to bed at a decent hour. I have now, officially, failed in that tonight. Off I go now!