Thursday, January 31, 2013
Yikes. I have been doing really sh*tty this week. It all started last week
Friday - Kickboxing. Then went out with a few friends which was pretty fun. Two of my friends got into a pretty big fight. I was a biiiiit tipsy. Got a midnight snack of mcdonalds and water to keep my future hangover at bay.
Saturday - woke up late. Went to get my nails done for my formal dance that night. I've been getting this gel manicure done lately which is super awesome because it is really shiny and it lasts for like 2 1/2 weeks! I went to the academy and they really messed them up! They took forever and looked horrible. And for a plus sized gal (especially one who was already feeling bloated and dreading wearing her skin tight number because she didn't get time to go shopping in the week) having nice nails and hairs is important to me! I went to the store to buy a pair of Spanx. The sizes they had were all small. The biggest one I found was still painful. But I bought them. I was really nervous. But I ended up shaving my legs really nice and I ended up feeling pretty good in my dress. Hung out with some friends at the dance and danced the night away. Then we went to the bars afterwards. So I got another crazy drunk night. I did feel good in that dress though!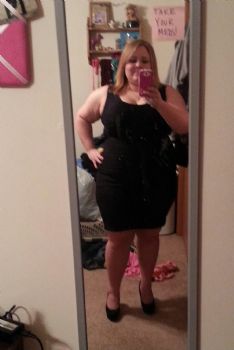 Sunday - felt like crap. Had to work. Kept the hangover at bay with water and greasy food
Monday - Spun.
Ever since I have been having a problem with my eating. I really need to remember that WHAT I eat counts just as much as HOW MUCH I eat (although both are bad currently). I am currently having some emotional crap. I don't know. I am feeling lonely. And I am feeling sad. And I am feeling overwhelmed. I have been spontaneously crying for the past two nights. And I know for a fact that tonight I for sure emotionally binge-ate. And I've never been a binge eater.
I really need some help. I would love any advice you have about dealing with emotional eating, incorporating more healthy foods, eating with not much time, dealing with random sadness, and weaning off of chocolate.
Thanks friends.