In a bout of discouragement, a fellow Sparkler pointed out to me that there are many mamas who achieved something even MORE awesome post pregnancy than the health and fitness they had going BEFORE pushin out a baby...
And Im not talking about poundage here- through for some of them that certainly was a factor. Im talking about strength, skill, attitude, endeavor.
Caveat: if I NEVER could be even remotely as fit as I was post baby it would STILL all have been worth it!
That being said, that belief cannot in turn be an excuse to the 'Give-up-amonster' or the scary 'Settleasaurus.' Nope. Not when there are so many moms who did awesome things for their health post baby.
I could of course talk about the VAST nmber of amazing things moms do everyday apart from fitness (hello? raise children!), like raising children, passing laws, breaking down walls and just basically saving the world one action at the time.... but no time or space.
So Im focusing on a just a very small sample of the Mamas that get me going because of how they changed their health and made careers out of it post baby.
1. So, number 1 is a controversial one- everyone has something to say about her training, her style, her beliefs, yadayadayada. Whatever- she made a fitness program that is FREAKING FUN and beautiful and can totally transform your body. She is the 'Teeny Tiny' Tracy Anderson:
It was after her first pregnancy that she first launched her career as fitness guru, training the likes of Jlo, Shakira, and most (in)famously Gwenyth Paltrow. She put together a workout program that uses her dance background (her mum taught ballet and she danced at Julliard before she turned her sights to the fitness field...) and using barre/pilates/mat style toning, she works to help women towards a long, lean, strong body. Some folks take issue with her minimal use of weights and her lack of fitness certifications- but ehr experience as a dancer doesnt count for nothing, not to mention how awesomely fun and effective her workouts are to do!
ALL OF THIS she did post baby! Her teeny tiny dancers body came after the Big Push. I was lamenting at how stiff my hips are three months out from delivery- they feel injured.... But it seems that with the right care and time I can still be nimble like Tracy.
2. Number 2? Chalene Johnson! For Beachbody Fans, Chalene is a staple with her Turbo Jam, Turbo Kick, TubroFire, and (...theres one more im forgetting.... you get the idea! prolific!) workouts: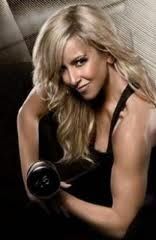 It was after having two kids, and feeling discouraged that ehr body may never be the same that she first created Turbo Jam, which blends martial arts and dance into a really fun calorie-torching butt-kicking workout.
Some find her too peppy- but when you are trying to burn hundreds of calories in 40 minutes, a little peppy helps get the job done. I know that when I want to burn calories fast, I turn to Chalene. Shes just awesome and totally inspiring. And can we say gorgeous?
So take-home lesson from Chalene? Like Tracy, she made a career out her fitness AFTER her baby...
3. Number three: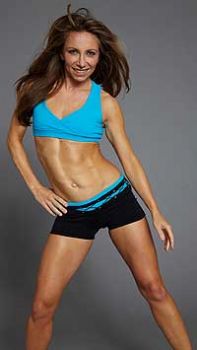 This woman is insane. Have you heard of her? this is Sylwia Weisenberg, creator of the Tonique method. Her workouts are deathly hard. Like, you need to 'train-up' to doing them!. Anyway, this awesome woman had two children and then began offering FREE classes since she knew her methods were mega effective and would get her the recognition she wanted and the opportunity to train thousands of women.
Her style is not for everyone- reps upon reps upon reps upon reps of full-range of motion compound moves. If her style is not for you- you are seriously missing out on some major burn and an awesome fitness challenge (please, watch your knees though!).
Shes a beast. And shes had two babies.
SO what have I learned after this little tour?
1. It IS possible to LOOK amazing post pregnancy and to have MEGA STRENGTH.

These women all look awesome. Sure, we dont all have to look like them, but they are testament to the bodies ability to recooperate and be mega strong and just BEASTLY post baby.
2. Its possible to be flexible post baby. Childbirth does not have to mean the end of my hip flexors.

Its true my hips have shifted- but I can focus now on what they WILL be able to do rather than what they WONT.
3. Finally- a career of fitness can be born POST-BABY.

Aka, its not something you have to get in before a baby. Am I wanting to be a mega fitness queen? Nooooo- Im just eager to teach a few classes, share my skills and knowledge, and help women reach their fitness goals. Why oh why would I ever even entertain the thought that having had a baby would hamper my ability to do so?? Yeesh

Wish me luck!