One way to Clean Out the Pantry ( NOT Recommended!)
Wednesday, January 30, 2013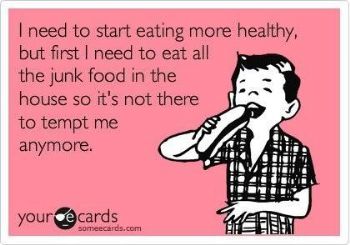 But I admit that is pretty much what I did last week and then wondered why I felt like....well ok, like the crappolia that I ate......
The past few days I have been back on plan and this afternoon, it was like a switch turned on and *poof....I realized how much better I am already feeling.
NOW--just need to REMEMBER.....both the good and not so good ways the choices I make for food makes in my daily energy levels, atttitude and focus on life in general.
Winter 5% challenge is getting ready for take off and I've joined a year-long-support group on Facebook so move ahead into this year with a ACTION plan.
Who needs 'new year resolutions'...all you need is a new DAY or new determination to make RIGHT NOW your 'fresh start'....Let's rock it!