Bored with your exercise routine?
Wednesday, January 30, 2013
I get bored easily with an exercise routine. Therefore, I've created a game out of it.
I was always a index card junkie in school - you'll soon understand.
With the help from SparkPeople I downloaded some images of my favorite exercise, and to make it fair, some of my least favorite exercises. I printed out the pictures and stapled them to colored index cards.
Upper body exercises on one color (green), core on another (violet), and lower body on another (teal). I put all the cards in a file box pictures facing the back.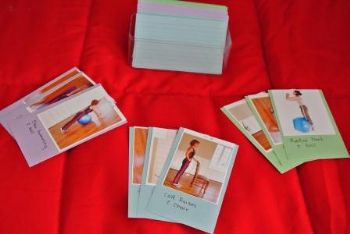 If I want to focus on one area, say core, I'll grab out 6-8 violet cards and that is my exercise routine for the day. If I want a total workout I pick out 2-3 cards from each color group and voila`! Like I said I have a mixture of favorite and least favorite poses so I never know what I'll end up with. One day I ended up with three different types of squats as part of my routine. I DETEST squats but I did them. . .I knew they would be out of the box until next week!!