So I'm not sure how many times it's acceptable to say "holy crap time is flying" but at this point it's a legitimate comment. Holy Crap.
Two weeks ago I snapped a belly pic, but chose to not put it up because it made my ass look enormous. I mean it's big, but it's not THAT big. But whatever, I'm putting it up today because um... hello baby belly!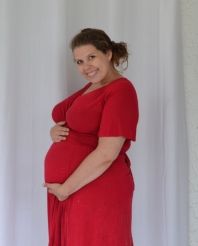 (taken at 24 weeks)
How far along?
26 weeks! Baby is probably over a kilo and is still measuring big for his age. He will open his eyes for the first time this week, and we can now play tickle games with him. In his reflexes he will kick us where we tickle him and that's fun and special.
Weight Gain
Same range as last week - 6-8 pounds. I learned the cut off for the hospital I want is a BMI of 40. Thank you Jesus that I lost weight before falling pregnant, because my prepreg BMI was 30. Not awesome, but SO much better than it was before.
Sleep
Mythical lie told by fairies.
Best moment this week
I went shopping with my Mom for the baby. Very special. I love seeing everyone falling in love with someone they haven't even met yet.
Feeling queasy?
Nothing this week, just anxious. Very anxious. I'm having a tough time controlling my anxiety attacks, especially at night and I find that I wake in the middle of the night with uncontrollable worry. I'm okay and I know that this will pass- but I'm hoping it passes SOON!
Week recap?
Met with the midwife today. I felt really great about her, and committed to pray to confirm that she's the right person for this occasion. I wrote to my doctor that I would be changing practitioners and she replied with an email about how I am putting my baby in "grave danger". It really upset me, because I really like this doctor, and trust her opinion and was caught very offguard by her directness. And of course it throws all my self confidence out the window too.
I'll be honest here, but I'm having a tough time pulling myself together this week. This week I am not brave, and I'm having a hard time controlling my emotions. I can logically recognize it being due to a lack of sleep. It's been more than 3 weeks since I've slept more than 4 hours in a night and with all the hormones, I'm literally a big wreck.
Looking Forward to?
February is one of my favourite months- right behind April. I love Valentines day, and one week later is my wedding anniversary! We've been married for 4 years, which isn't super amazing or anything, but I'm proud of us nonetheless. :)
I hope you guys are having good weeks!