My own motivational calendar
Wednesday, January 30, 2013
Okay, so excuse the picture, my camera went to hell and back on New Year's Eve...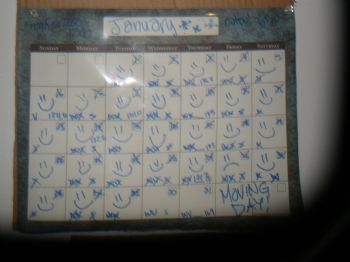 So this is my handy-dandy calendar!
It is what helped me get back on track and stay on track since then. It is right by my door with a cup of markers for me... A smiley face means I made calorie range that day, a sad face means I didn't... And all the other marks around it are for the January Jumpstart challenge. I had W,S, and V written down and crossed them off when I finished! (Workout, strength, and video) Thursday is my weigh-in day right now so I have my goal for that week and then a line with my actual weight when I got there. Ta-daaaa!
I guess what I'm saying is, try everything until you find something that works for YOU.
Have a great day, everyone! Moving day is approaching!!!