Okay, so I have to be honest.....logging into the Spark tracker lasted about two half days. How did I not know that? I've resisted tracking for 2 years.
I muddled along for another 3 weeks with no progress, feeling depressed, discouraged, frustrated, even ashamed.
Yesterday morning I was watching some of Dr. Fuhrman's videos on YouTube. He definitely motivates me when he speaks. He explains the science behind high nutrient foods in terms of how they protect our bodies from disease. He does a nice job of describing why some of the most popular diets and counting calories fail to bring lasting results. I have all his books and several of his DVDs. I've tried to live his eating plan at least 3 different times. Even though I failed each time, I always wanted to eat the way he advocates. I mean, who wouldn't want to achieve a healthy weight by eating larger quantities of food? Who wouldn't want to break completely free from cravings (his term: toxic hunger)? Who wouldn't want to protect their body from all sorts of ailments, including cancer, just from the foods they ate? It should be easy to fall in love with healthy foods to the point that you never go back to the unhealthy ones.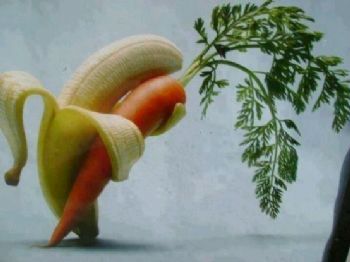 The million dollar question: Why is it so hard to do? Why can't I stick to it? Why aren't all the wonderful benefits worth more to me than my feelings of deprivation? According to Dr. Fuhrman, those feelings go away after consistent high nutrient eating, but I've never given it long enough to know that for sure.
I felt prompted to pull out one of his newest books, "Super Immunity". One thing that stood out to me was the fact that merely eating mushrooms frequently can "decrease the incidence of breast cancer up to 60 to 70 percent!" Add daily green tea to that, and it goes up to a decrease of 89%. Why aren't all doctors teaching this stuff? There are similar results with other foods and their ability to decrease the incidence of various cancers.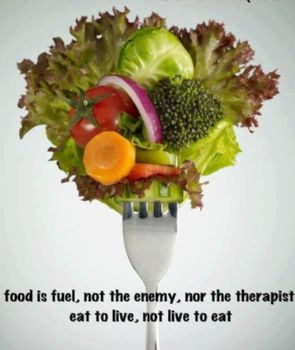 I felt so inspired after reading the book that I re-committed to changing my diet right NOW.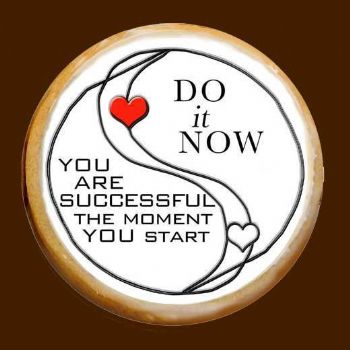 It felt somehow different than when I had last tried it some 4-5 years ago. I am much more driven by health now that I'm 61 and especially after my sister died of pancreatic cancer at age 65. I am willing to take the focus off of my appearance and look closer at the daily benefit of increasingly better health and vitality. I am willing to take it slow as long as I can make it permanent.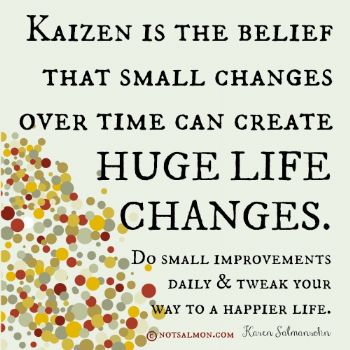 That means that it has to be a process and be measured by progress. The last time, I couldn't seem to follow the strict plan 100% so I gave up completely. I am now willing to see the gray area.
I'll start with making sure I have Dr. Fuhrman's list of the top super foods posted on the fridge and I will do my best to include the majority of them daily and all of them throughout the week. I'll eliminate what's easiest for me and gradually work my way through the list of nutrient-lacking foods; although I feel an urgency to give up sugar right away even though it's tough to do. I went an entire month without sugar last year, so I know I am capable of doing it. I'm going to give up Truvia, honey & maple syrup last, but I must again make a solid attempt to completely eliminate white sugar.
I've already made some headway. For lunch, I cooked up an assortment of veggies: onion, red/green/yellow/orange bell peppers, broccoli, carrots, zucchini, mushrooms, kale, corn, sweet potatoes; plus sesame seeds, black beans, and Dr. Fuhrman's Vegi-Zest powder. I always assumed I HAD to saute the veggies in olive oil in order for them to taste good. This time, I was willing to try just using water. I also used to add some cheddar cheese at the end of cooking, but decided to forgo it.
Doesn't this look so colorful and delightful?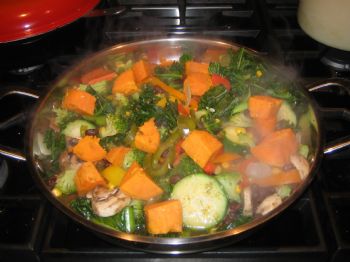 I scooped some onto whole wheat flatbread.
I added some more veggies on the side. Eventually I'll eliminate the flatbread, but for now I enjoyed it fully. I felt full and satisfied from all the veggies.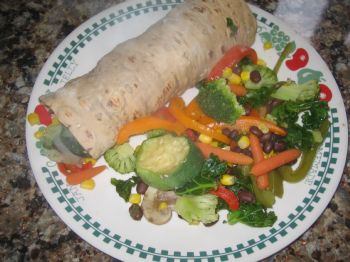 In the book, Dr. Fuhrman recognizes that some people need/want to include some of the less nutrient dense foods, so his rule is to limit it to a 150 calorie serving once/day if necessary. That's 1 and a quarter Tbs. olive oil, or 3.2 oz. chicken breast, or 3.8 oz. salmon, or 4.2 oz. tilapia, or 2.1 oz. lean beef, or 1.3 oz. cheddar cheese, or 1.5 eggs. Not a lot, but it would at least help me in social situations and better enable me to hang in there with the plan.
I've been so unhappy with my excess weight and lack of energy lately. I'd been driving myself absolutely crazy over the past few months with what I should do. This is what I really want to do. I want to feel better. In only a few weeks, I CAN feel better.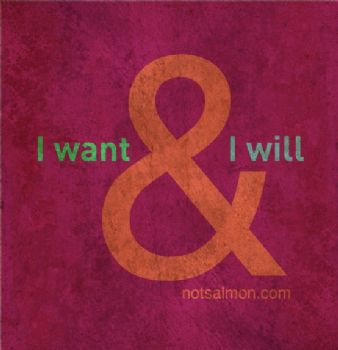 I have numerous books besides Dr. Fuhrman's regarding the many benefits of a plant-based diet. Even though I've had past failures, I keep coming back to it. I hope to make it past the barriers this time and be able to become another success story....the story of the lady who refused to give up and finally succeeded.