Don't you just love cooking? I do! Experimenting in the world of fresh ingredients, savory spices and overwhelming scents and flavors is just wonderful. And if you add your own two unique ingredients, pure love and imagination, the results can amaze you.
I have many cookbooks at home but, to be honest, I seldom search the internet for recipes. There's no specific reason for this but I guess my online time is usually limited and I spend it otherwise. The "What's cookin' Good-lookin'" challenge introduced me to a whole new world of online discoveries. And the first recipe site I started exploring was skinnytaste.com. I loved it!
For this week I had to change my plans because my children were sick with stomach flu and chances were I wouldn't take part in Week 2. But yesterday I had to make something quick for me and my husband to have for dinner. And I wanted comfort food. "Skinny Texas Cheese Fries" sounded like a great idea. Fries was a perfect source of comforting carbs, texas was translated into "spicy", cheese was the perfect addition and skinny just took all the guilt away from a comfort food!
You can have a look at the recipe here:
www.skinnytaste.com/2012
/03/skinny-texas-cheese-fr
ies.html
I followed the recipe exactly as it is and I only took out the onion powder because I don't use it and I simply didn't have any. The potatoes tasted like fries – even better if you're like me and you don't really like all this greasy feeling the real fries give you. The spices made a good combination and really made a difference. I have to admit I used a little more cheese but it was extra light cheddar with only 14% fat – that's light for a cheddar, isn't it?

All in all, the recipe is here to stay. Although my husband made lots of complaints… He found the serving too small!
I also made the Low-fat Buttermilk Ranch dressing that was suggested at the end of the recipe.
www.skinnytaste.com/2011
/09/low-fat-buttermilk-ran
ch-dressing.html
I wanted to make a smaller quantity so I halved the ingredients. I may have made a mistake in my calculations – although I double-checked – but the dressing came out too thin. Maybe that's the way it should be but I would prefer it a bit thicker and creamier. So, next time I'll probably use more yogurt. Apart from that it was really tasty and made a great addition to the skinny fries.
Oops! I almost forgot the pictures!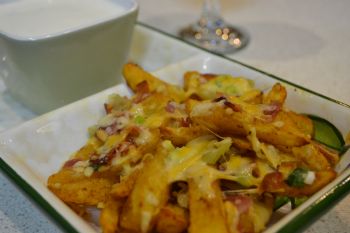 I have more recipes in mind that I want to try so I might be back before Round 2 is over.
Until then… enjoy your kitchen adventures!