Vegetable biscuits with vegetable gravy
Tuesday, January 29, 2013
I found sweet potato flour at a specialty store. Since I'm wheat free nowadays, I decided to try it. I don't really have a recipe. I just use any biscuit recipe and then make the gravy out of plain yogurt, buttermilk and flour. Added chopped sauteed brussel sprouts, spinach, mushrooms and sage leaves to the biscuits and the gravy. The plate I used has a stencil of a mushroom on it. It seemed appropriate!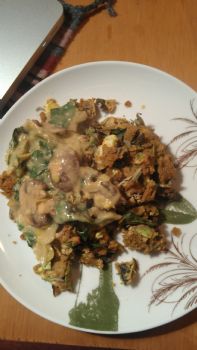 The flour wasn't sandy or grainy at all. Since I haven't had any sugar other than fresh fruit in the past 2 weeks, the sweet potato flour tasted very sweet. It was delicious!
I hope you're all having a great start to your week.