January 29, 2013
Tuesday, January 29, 2013
Did not get a chance to blog on my weigh in this last Sunday. I went in and I have lost a total of 2 pounds for the week which makes me at a total of 5.8 for the 3 weeks that I have been on Weight Watchers. I'm VERY happy with this amount and love that I am doing this with this determination I have within me!
(picture of 5lbs of fat...just add .8 to this. LOL)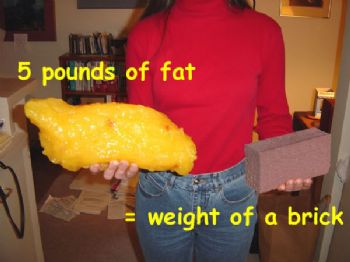 So I lost a brick....and after moving all the bricks in my back yard MAN do I know how heavy they can be!
Sunday and Monday I did not get in my workouts so I will be getting them made up today and tomorrow. Going to bring Jillian back into the mix. I figure she may only have one left on the show so I'll have her whip me into shape at home! HAHAHAHA
BIG plus yesterday was I went food shopping and not only did I spend less than $100 for the family's meals until this weekend....I bought mostly from the "outside" of the store leaving a lot of processed foods still in the store. I was shocked to have spent so little and to know that my family will be eatting great for the week! Shopping again on Sunday after my weigh in and my goal is to spend about the same amount and to use coupons!