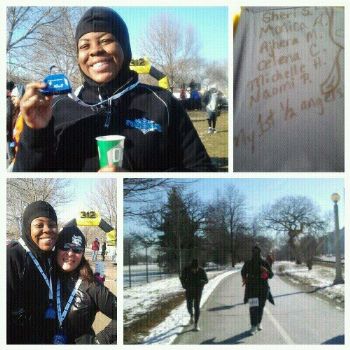 Miracles, signs, & wonders... my Father answers my prayers. I completed my 1st 1/2 Marathon today (with gravy); 13.3mi in 3:18:54! The course was scheduled to close in 3:30:00. I finished before the cut off & I was NOT dead last. The wind was in my favor, I am injury free, I enjoyed the highs & lows of this race. God answered those prayers.
Running a 1/2 marathon was nothing like what I expected...
My RP showed up to see me off at the start of the race. In my excitement, my training jumped into the frigid lake and a series of hurdles lined up in front of me. Started too fast, packed sand/snow/ice provided significant resistance, and I started hyperventilating. By the end of mile 3, I sent out a post to my BGR family that read "God, help! I am DEAD last." My thoughts were all over the place as I ran at least half a mile behind the pack, I'm praying "God, this has to get better. I have too far to go, I k...now You are with me, Lord give me strength."
Who do I see at the end of the prayer while tucking my phone into my belt? A handful of BGR ladies from my weekly run group! (Another answered prayer). My BGR sisters were cheering for me and shared their plan to run with me to the finish as a tag team! Seriously? God answers prayer and they did just that! They ran when I ran, walked when I walked, prayed with me, for me, & served as my natural on-course angels.
A BGR sister movtivated me to recite my anchor Scripture when my thoughts became clouded... "I can do all things through Christ who strengthens me". (Phil 4.13) Little did Stephanie know, after I received salvation, I wrote this very Scripture on EVERY test in undergrad & grad school. I cried out "Lord, have mercy!" when I caught a brutal cramp across the top of my glutes around mile 10, but I kept going. When a volunteer asked did I want a ride to the finish, I snapped "NO!"
We rolled up on a walker who had a knee injury and she was solo, so we invited her to walk/run with us through the finish. Guess what her name was...MERCY! I was in pain but just her name assured me even more of God's presence on this journey & I was strengthened, inspired, and determined to press on. I finished! I finished! I finished! A good girl friend made sure my son was there to cheer me on. I thank God for my 7 angels (completion) who got me here and the 8 angels (new beginnings) who He povided along the way.