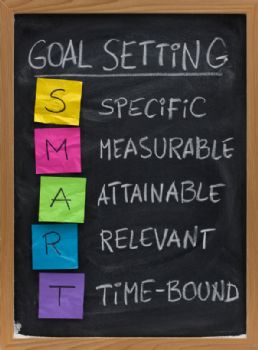 Quote of the Day: Dare to accomplish the things you've only dreamed about doing. If you can dream it, you can do it! (Denise Austin)
At the start of each month, I put down what my goals are going to be. The only way to be successful on your weight loss journey is to make detailed goals because it puts a plan in place for you to follow. If your goal is too vague then you will end that month not doing to well with staying focused on what you want to accomplish.
My goals every month are always very detailed in the way I put them together. I thought I'd share some ways that I put my goals together and how I go about it.
1. One Main Goal - This is the big big goal for yourself for your whole journey. You need one main goal to work towards.
2. Sub-goals - Now that you have your main goal set for yourself, you need to break it down into categories to get there. For me I choose three; fitness, nutrition and self. I will pick goals to help me get to my main goal with little goals that fit into one of the three.
3. Put together small monthly doable goals - I will try to put together 10 goals each month; 3 in each category and one free-for-all type of one. I know 10 may seem like a lot, but what I do is focus on one of the three instantly that month and the other two usually are super simple, but enough to keep me on track. Let's say this month I'm working on what I'm eating. I might choose goals that have to do with cutting out or down on something, counting calories and eating more vegetables. My other two categories might be simple like to exercise for 30 to 45 minutes a day, get to 10,000 step or read a positive quote each morning. Then the next month I will focus on fitness and so on and so forth. The free-for-all goal is usually something that could give me a break for the whole weight loss journey. This is can be my "Diva Day" that I pamper myself or go to a store that I always wanted to check out, but never had the time.
For me, I'm a planner when it comes to this. I enjoy flying by the seat of my pants in my life in general, but when it comes to weight loss I need it planned out, it keeps me focused. I have a few more days until the 1st of February and I will get my goals up then. Hopefully this shows you how I put them together. I'll really explain more when the February goals go up.
-*-*-*-*-*-*-*-*-*-*-*--*-*-
*-*-*-*-*-
Guess what is finally going on outside? Yep, it's snowing. It's been awhile since we had some snow here in the city. It started early evening and has been slowly falling since. Of course this means that there will be people out in the morning not having a clue how to drive in this stuff. I know, we all have those people where we live. The one thing that's funny is how people forget how to park in a parking lot, all crazy and even blocking cars in. Seriously, does snowfall make you lose all common sense? Guess so.
I did some major grocery shopping earlier, coupons and all. I got tons of produce and some lean meats that will be there to make healthy meals with no excuses. I also have stuff to make homemade pizza for the Superbowl. We decided this year to have no one over, just the two of us. It always seems that when we have a get-together with friends it's always here. I know I have a big house, but come on give me a break. I love having the holidays though, but I would like to go down on of our friends houses instead. I am making dinner the following weekend for my family to celebrate my birthday, yikes 41!!! It's easy to do that for only 9 of us.
I think I'm not going to get the dresser from IKEA to put my make-up in because the one I got from my Mom works perfect and the other plastic ones I got for Christmas I'm putting in the closet to hold accessories and one for all Bella's treats, toys and sweaters. I've been working on the room little by little and hopefully will have it done this weekend.