Monday, January 28, 2013
Well, just like yesterday, the day rarely goes as planned, but today worked out for the better. I didn't get in too much of a workout again :(, but I did get out of work early which meant I would be able to come home to help my mom with some things and also to to my dress appointment early. I took in a few dresses to get taken in and today was the day to go get them. You can't see it in this picture, but I'm actually wearing the same dress that is in my "before" picture, but now it's taken in to fit me at 168lbs rather than 265lbs! I was able to bring 2, out of the 4, dresses home today but the other two had to be taken in a little more still so I'll get those back next weekend. This weekend is too crazy otherwise I could get them sooner. It feels so good to be wearing this dress again and knowing that it had to be altered to fit me now. I loved this dress when I bought it and I love it even more now. I felt pretty darn good today. On a side note, here is a picture of my mid-day snack. When I'm at work I have to find things that can give me a little extra protein and energy and today's is a new favorite. It was so good!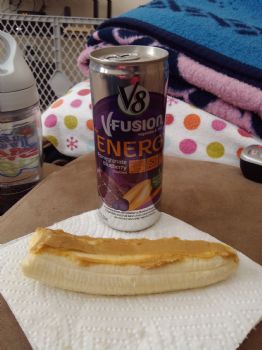 I am a big fan of the V8 V-Fusion drinks because I can get that fruit juice taste with a whole lot less calories and sugar. And my banana was awesome! I cut out a small slit and then filled it with peanut butter. OH MY GOODNESS!! It was delish! You should totally try it :) Well, I hope you all had a fantastic day and an even better day tomorrow!!