Well, went back to the gym for my real 1st session with my trainer.
It was not as intense as the last time!

I had texted her Saturday and told her I could hardly walk,so she took that into consideration when doing my session.
I was even able to go do my zumba later.
Hey! Can't interfere with my zumba!!!

I have 17 sessions remaining -that is 6 weeks at 3 times a week.
I made her take a picture of me at the gym and I'll take another in 6 weeks to see if there's a difference.
I scared that pretty young girl tonight!
After I had finished a set of crunches, muscles in the middle of my back/chest hurt, and I must have made a face while pushing on my chest in the middle of my breast.
When she asked me if something was wrong I said "yes, it hurts right here".
The poor girl thought I was having a heart attack right then and there!
You should have seen her face!!! It was priceless.

When I saw her face, I said "i'm not having a heart attack! It's just my muscles!",well you should have seen the relief on her face!
She probably thought she was going to have to use the defibrillator on me!
Shows how much out of shape I am!!
Anyhoo.
This is a picture of me (in black) and my sister at zumba when I had lost like 20-25 lbs. Maybe more. I don't really remember.
It was taken by my sparkfriend "ESILBO".
There she is too!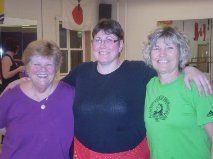 And this is me today at the gym, 52 lbs lighter , but looking like a sausage in my gym outfit because my bigger shirt was in the wash!
Side shot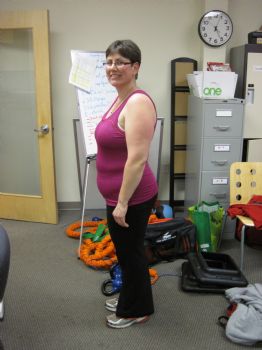 Hopefully it will look better in 6 weeks.
I'll take more pictures then.
Have a nice day!