Starting A Bonus Streak
Monday, January 28, 2013
Just realized that I didnít get a chance to blog last week. Itís been All-Hands on Deck for Science Fair around here. But itís finally over--can you hear the angels singing?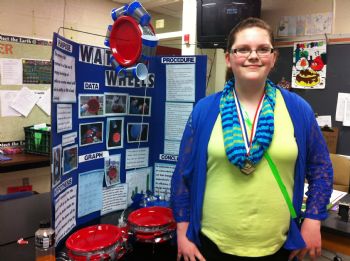 Behold, Audrey, Queen of the Waterwheels.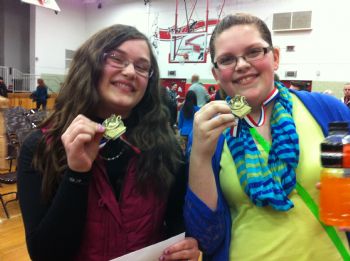 Audrey and Emily both received Superior medals and Emilyís going on to Regionals!
We decided that Audreyís project deserved a fitting retirement, so we gave it a proper Viking funeral (minus the longboat) in the firepit in the backyard. It was fun. I wore a Viking beard and played ďTapsĒ on my wazoogle.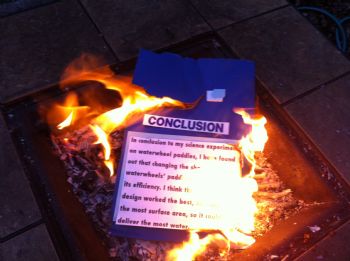 Fare the well, oh Science project
The Daily Creativity Journal project has also keeping me pretty busy. Making/doing something every day has been a fun challenge. Hereís the latest--todayís assignment was to use school supplies in different way. So, I made a little diorama, with an anarchist twist. Ha ha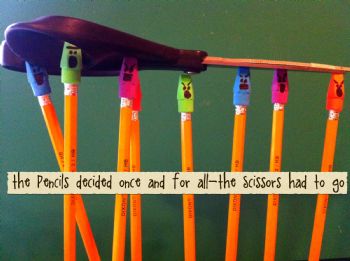 "The Pencils decided once and for all--the scissors had to go." LOL
Speaking of challenges, Iíve decided to start a bonus streak. If youíve been Sparking along with me for a while, you know that tracking food is my Achilles heel. I stop tracking and get sloppy with portion sizes and staying in calorie range. This really slows my progress and I know it. I totally get the exercise part; itís become a daily habit. I credit a great deal of the energy I have, to getting that 10 or more minutes in each day. In fact, today was Day 666 of my workout streak. I did an hour on the elliptical and Week 4 Day 2 of my 100 Pushups challenge (another blog). So, yes, I get the fitness part. But Iím giving myself a little kick in the pants on the nutrition part. Iím challenging myself to track all my food for the next 15 weeks. That takes me right up to Motherís Day. My BFF is holding my feet to the fire. Sheís starting a workout streak, so weíre helping each other. 15 weeks. Thatís 105 days. Iím planning on making this Day 1 of the Bonus Streak. 104 to go. Iím excited to see what things will look like when I get there! You just canít do too much streaking, right? Iíll keep you posted.