Eating Right at the Office
Monday, January 28, 2013
One of the dangers of working downtown is the easy access to A LOT of really delicious restaurants!
I identified eating lunch out as one of my danger zones early on - not only is it expensive, you can use up a really big chunk of your daily calories without even thinking about it.
A second (related) danger zone: a tendency to oversleep, skip breakfast, and then overindulge in lunch and/or go to a coffee shop to get coffee cake, muffins, bagels, etc. Not healthy at all, and certainly not friendly to my wallet!
My solution: a mini-fridge I stock every Monday, so that I have meals (breakfast AND lunch) and snacks for the entire week ready to go!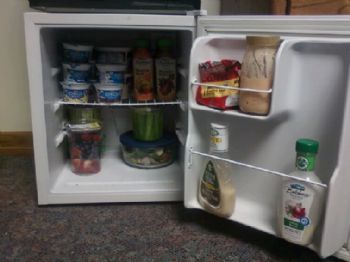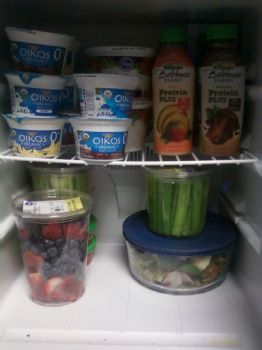 This week's selection: Greek yogurt and a big tub of assorted berries (and I keep wheat germ on hand to add a bit of crunch and make a healthy parfait!); carrot and celery sticks with hummus, cottage cheese, protein smoothies, and a big bowl of salad (and several dressings). I also keep several kinds of seeds and nuts, along with single-serving packets of tuna and salmon, to go with the salads.
How do YOU avoid the perils of office-time snacking and take-away meals?!