Monday, January 28, 2013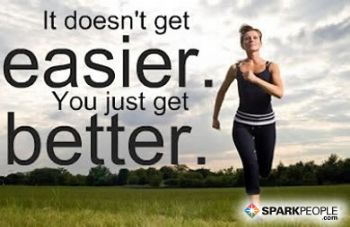 Today's Program from Your Coach - Unexpected Sources of Motivation
Motivation is something that doesn't come easily for a lot of people. But that is usually because we simply expect it to be there--rather than doing something to cultivate it and keep it running high. Just as you need to fuel your body with quality foods each day, you have to give special attention to finding and increasing your motivation.
Our research shows that the most successful SparkPeople members reported actively seeking out "motivational moments" throughout their journeys. These motivational moments can come from almost anywhere--and don't necessarily have to be specific to healthy living. Motivation can come in many forms.
You can be moved by a movie, song, word, speech, photo or experience. The key is to be looking for those moments--and then to capture and remember them for the future. Where could motivation be waiting for you in your life? Where can you go to find it when you need it? Start to develop a daily routine where you actively seek out inspiring stories and events that make you feel like you can reach your goals.