Due to popular demand, here's the recipe I mentioned in my last blog. The recipe lends it self nicely to modification, so feel free to play with it - mine are slightly different every time but equally tasty. The recipe used to be a super low-cal recipe that I've padded a bit, but I'll note what to do to keep them as low cal as possible.
BANANA BRAN MUFFINS
Makes 12 large or 18 small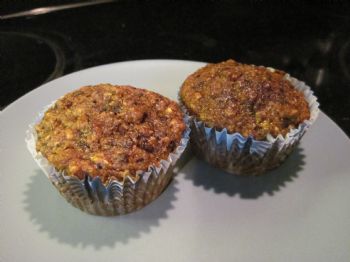 Preheat oven to 375 degrees F. Line 18 muffin cups with paper liners.
Combine dry ingredients together:
1 1/4 cups whole wheat flour
1/2 cup oats (quick or rolled)
1/3 cup wheat bran (*original recipe used 1/2 cup bran and no flax or wheat germ)
*1/4 cup ground flaxseed
*1/4 cup wheat germ
1/3 cup brown sugar (original recipe used 1/2 cup but these are plenty sweet enough)
1 tsp baking powder
1 tsp baking soda
1/2 tsp salt
1 tsp cinnamon (adjust spices to taste, I put in a generous teaspoon typically)
1/8 tsp nutmeg
Stir together with a fork until well blended.
Mix together in a separate bowl:
2 large overripe bananas, mashed (about a cup)
2 eggs (original recipe included only egg whites, but I hate to waste those nutrient-rich yolks; plus I need a little extra wet ingredients to go with my extra dry)
1/4 cup honey (original recipe used white corn syrup)
1/2 cup skim milk
3 Tbsp molasses (original recipe used 2, but I like my muffins dark and sticky, have cut back the brown sugar, and again, a little extra liquid doesn't hurt with the extra flaxseed)
2 Tbsp oil (no oil included at all in the original recipe)
Stir together until well blended.
Combine dry and wet ingredients together along with:
1/2 cup raisins
1/4 - 1/2 cup dark chocolate chips (mini choc chips work best, but full-sized are fine, or chopped chocolate)
(Variations include 3/4 cup raisins, or 1/2 cup raisins plus 1/4 cup toasted walnuts or pecans, or raisins plus nuts plus chocolate chips... add what you feel like!)
Stir all ingredients together until just combined; don't overmix.
Spoon into 18 paper-lined muffin tins and bake for 18-22 minutes. When done, muffins will be golden on top and bounce back when touched lightly. Let cool in pan for about 10 minutes, then transfer to wire rack to cool completely. Muffins freeze well for a quick add-in to bag lunches or snacks; I typically bag mine up in pairs in ziploc sandwich bags, then pile all the ziploc bags into one large freezer-thickness ziploc bag.
This version of the recipe is 166 calories each, with 4.7 g fat, 31.7 g carb, 3.3 g fibre, and 3.6 g protein. Listed here:
recipes.sparkpeople.com/
recipe-detail.asp?recipe=2
369608
A lighter version is here, with 131 calories each, but no directions (sorry - I didn't intend to share it!):
recipes.sparkpeople.com/
recipe-detail.asp?recipe=5
4275