So last week I set some pretty easy goals for myself and made my fitness plan. One thing I did and have REALLY noticed the difference with is water. I've made or exceeded my goal of 5 bottles of water a day every day this week and it makes me feel so much better. I feel more empowered at the gym. I don't feel exhausted. I love water. (5 bottles = 15 cups of water)
I've also stuck to my plan of going to the gym one more day than last week. In fact, if/when I go today, I will have exceeded last week by TWO days! Woohoo!
I've also been much smarter about my calorie allowance, though I am still working on upgrading to an actual breakfast rather than "banana and coffee." I found a recipe for pumpkin butter and have enjoyed pumpkin vanilla greek yogurt these last two days. It tastes like something naughty but it's soooo good!
So all in all, I've achieved all of my goals I set last week... except for my specific fitness plan goals. You see, just because I CAN do something, doesn't mean my body WANTS to. It has protested. There is a massive war going on in my knees and ankles and I'm not sure who's going to win yet.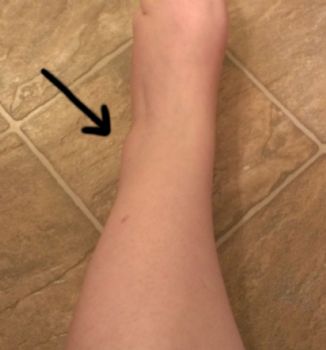 This bump on my ankle showed up a week or two ago and I had no idea what it was. I figured it was ankle swelling, which can happen from time to time. But then it stayed. I was googling trying to figure out what it was.
Then, early this past week, I noticed a bump on my knee that was similar: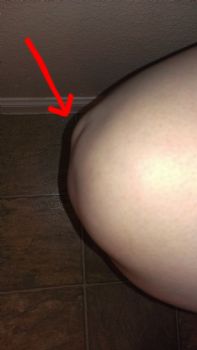 It looks like an alien laid an egg in my knee. On Thursday or so, another one popped up on my other knee. So, I'm freaking out thinking I've got some kind of crazy cancer or something. I don't have health insurance, so I like to try to figure out if something is serious or not before committing to a nice big bill. It didn't HURT, so I did some research. I finally came across a picture that looked EXACTLY like my ankle. It said it was bursitis.
My mom texted me right around that time, asked how I was doing, etc. I told her my joints were giving me some trouble. Without me saying anything she told me, "You know, Grandma had bursitis, so be careful and watch out." It all kind of clicked. Apparently my mom gets it in her hands, as well.
So while I want to do more at the gym to feel better and lose weight, it's really not smart to destroy my joints in the process. This week, my goal is to get these bubbles of joy to shrink back down. I've been icing them and taking ibuprofen. One of my knee bumps is completely gone now. Hopefully this week of taking it a little easier will help.
I'm sad that I'm not going to be able to stick to my fitness plan, but when I made it, I wasn't aware of the joint issue. I can't be ashamed of that.