Last weekend I started craving junk food more than usual. And unlike usual I went ahead and ate it. I made chocolate coconut popovers... they were delicious... but I ate way too many.... I ate chips at work and iced coffee.
I am not entirely sure why but I think it had a bit to do with trying to do too much. I was super busy at work early in the week. Hence why I wrote about being overtired on tuesday night. I appreciate all the responses as well. Clearly everyone agreed that I was doing too much. I woke up on Wednesday and read all the responses and still had that stubborn streak thinking it isn't too much, I'll be fine. Well I went ahead and did my 12 mile run that morning because that was really the only run left that I was really enjoying. And it was not enjoyable. Things hurt, I wanted to walk and I NEVER want to walk, it was hot, I was tired. Anyway I finished it although quite slowly.
I decided you all were right. Something I'd known. So what to do about it. The plan was to continue with classes, skip any extra 'homework' my trainer gave me, do fun easy runs with no concern on time this weekend and catch up on a lot of sleep on a 3 day weekend.
I think between being overtired, a bit stressed at work, sad to reduce my exercise and having already been eating poorly I just got worse. I do think I'm probably not as bad as I used to be prior to really changing my lifestyle but way too much chocolate. Way too much food in general.
In the end mother nature helped give me a bit of time off. We had the remnents of cyclone oswald hit us starting on Wednesday afternoon. It meant a very slow day at work on thursday, a very short work day friday and 3 days off exercise. It also meant both roads to Yeppoon being cut when I had to get my husband in to Rockhampton to get his wisdom teeth out. Thankfully with some fairly scary driving and some water over the road we were able to get through one of the roads that reopened. It also meant that on friday morning the power at work went out right in the middle of me speying a dog. Thank god we had power back up for at least one light and the dog was fine. Stressful though.
But we are lucky, my neighbours house lost part of their roof and the front window is smashed, plus they lost half the power in the house. We only had flooding in the garage. This has meant a bit of exercise trying to sweep it all out daily in the hopes of reducing the likelihood of it getting in the house. Kind of irritated by that one as my landlord could repair it but doesn't want to spend the money to fix the drains. They sure won't now either since they also own the house that the roof came off!
We're also lucky we got into Rocky for my husband's surgery. It was a little sad for me because I couldn't go home in case the road got cut again and most of the shops in Rocky were shut due to power outages and flooding so I spent a VERY boring 10 hours at the hospital waiting for him. He was last to go and got 7 teeth out. A few that have been damaged in a riding accident years ago. Glad they are finally fixed although I'm looking forward to getting some money back from the insurance as it wasn't cheap!
He's recovering well although complaining a bit. I've been busy making lots of soft foods. And trying to not eat too much pudding myself.
Now as for making better choices. I made a big batch of healthy soup yesterday and overnight oats for a few days. I am rid of most of the unhealthy stuff in the house. The sun is out a bit this morning so I will run when it cools off later and take the dogs for a longer walk. Hopefully my body will feel rested. I am also going to commit to my physio exercises every other day as my bursitis is acting up after 12 miles the other day.
I will admit I am a little scared of my upcoming goals. I think I may have a bit much planned in a fairly short space of time. Half marathon in less than 2 hours, marathon, 100km walk and 50km trail race in 6 months but if I have the right attitude for each event I think I can do it. The 50km race is also optional at this point and the marathon can become a half marathon if need be. So I have alternative plans if needed. Hopefully I don't need them.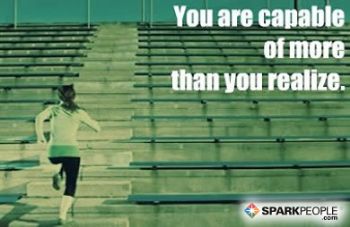 Thanks for everyone's support on my last blog. Sometimes it really helps to hear that sort of thing from someone else :-)