Saturday, January 26, 2013
My wonderful brother gave me bamboo mats for Christmas, so that I can make sushi. After finally finding some organic raw nori, I made sushi tonight! My first time out, the sushi rolls aren't perfect looking. I need practice rolling, and I need a knife intended for cutting seaweed rather than meat.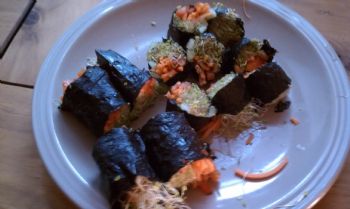 Here is what I learned making sushi the first time.
1) One and a half cups of sprouts are plenty. If I try to use two cups like the recipe called for, it's too much, and I can't roll the sushi properly (hence some oversized sushi rolls in the above picture).
2) At least use a paring knife instead of a meat knife.
3) Miso is a must-include ingredient as it gives the sushi a nice flavoring.
4) Don't try to roll the sushi too tightly, or I'll break the nori.
5) Even if the sushi isn't picture perfect, it will still taste amazing.
6) Kombucha is a nice compliment to sushi.