Hey all!
I thought Iíd just do a quick blog since this morning Iím not in the mood to do a lot of talking. I just woke up (itís almost noon) and I feel like I couldíve slept another 4 hours!
The last couple of days Iíve been working on a ďLifestyleĒ Binder. I use it to keep track of my progress and my daily activities as well. I wanted to share with you if you are looking for something that you will use everyday or donít necessarily want your progress out for everybody to see (guests, etc.)
Here is the front. I just decided to put some positive self-talk type things for me to read when Iím feeling down and discouraged: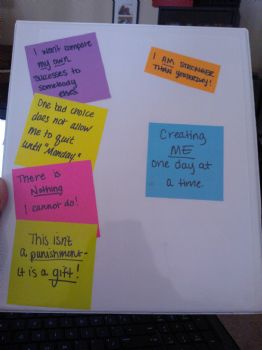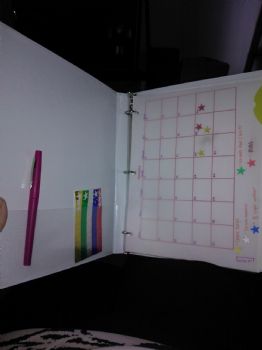 Here is how it looks when I open it up. I like to keep my stickers and a pen in there at all times:
Here are the tabs; Monthly, Daily, Measurements, TBD, TBD: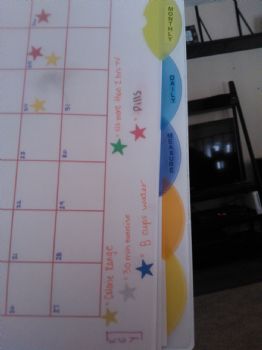 My Monthly Calendar so far (Yes, I started this yesterday LOL)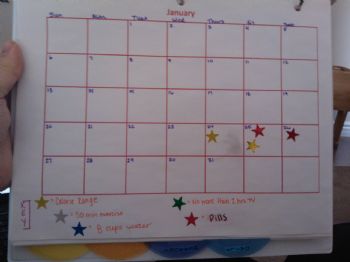 Yesterday we had some friends over and as you can see I DID managed to stay in my calorie range, even though I wasnít the one preparing anything. Last minute while we were waiting for some of them to arrive I even made some Pumpkin Brownies for dessert, which I had never attempted to do before. There are some things I might try tweaking it with next time, but at the end of the night their plates were clean and they said it was good- so there ya go! They didnít want to take any home with them even though I practically begged, so when they left I threw them all in the trash and covered them with some coffee grounds. Not that Iíd dig through the trash for them butÖ it just made me feel GOOD! LOL
Oh, on Thursday morning I got a call from my doctor. She was calling me with my thyroid lab results. She said the high end of a normal range is 5 and my test came in at a 91. (Apparently the higher your number, the lower your thyroid is?) Anyways, the first thing she said to me was ďHOW ARE YOU EVEN OUT OF BED AND FUNCTIONING?Ē Kind of a wakeup call for me. She also said that as long as I take my pills everyday, I will probably lose 30 or more pounds effortlesslyÖ WELL, I LIKE THAT! LOL
Thatís all for now. Talk to you all later!