DH saw me typing this title and thought I might be referring to him. His office is in the basement and he does spend a lot of time there. He also shows up in my blog now and then.
No Joe, the beast is not you, but this old behemoth that we bought 20 years ago. Remember how we figured that it would save a lot of money on gym memberships and you would use it too? It didn't work out as planned, did it?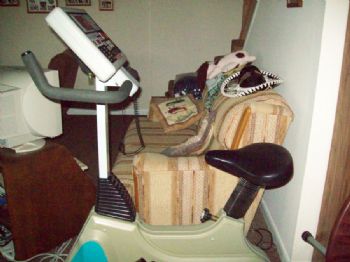 It was the first of the generic "Lifecycle" models with a computerized display for terrain. It replaced the recumbent cycle that also seemed like a good idea at the time. We gave that one away when we realized that reclining on a cycle was not a natural position for either of us.
At least these 2 experiences kept me from buying my own treadmill. I knew I wouldn't use it – not enough to justify the cost anyway.
I never gave up my gym membership and regularly workout there. I prefer the outdoors, but as a weather wimp I often seek my fitness in an air-conditioned or heated environment. I have a climate controlled house that I could fill with personal equipment and yet I don't want to. What's the difference?
For me it's the solitary nature of cycling in the basement going nowhere. At home I always saw something else that I'd rather be doing. Even after retirement with more free time, that mindset continued.
Outside I take in the sights and enjoy nature. At the gym I people-watch and carry on a conversation with the regulars. Twice a week classes are important to me too.
SP had an article recently about deciding if a gym membership is right for you, along with tips about choosing the right one for your lifestyle. Purchasing home exercise equipment is in the same category. Great for some, not for everyone and hopefully we know which group we're in before we lay out the cash.
So why am I writing about this today? We got snow yesterday, not much by northern standards, but enough to cause dangerous road conditions around here. Unless the sun melts the ice I shouldn't drive to the gym. It's probably closed anyway.
So beast, it's just you and me. You're better than nothing so we'll see how it goes.
I'm not alone in owning an unused fitness machine. That's how "Play it Again Sports" makes a profit. Some people use theirs as a place to hang clothes. I admit that mine occasionally has served as a drying rack for blankets and comforters.
Anyone else out there in my situation?