Friday, January 25, 2013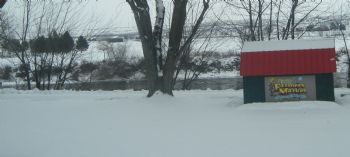 Jan 25th still loving my snow through the valley ...had to go with DH to dentist 25miles south of home and afterward drove by the place we set up for our furthest away Farmer's Market...yup, this park is where we will be setting up again in just 4 months. Sure looks different than in the summer months when we are there each Saturday.
Then on the way home I got the second picture looking across fields towards the mountain we used to drive around for summer picnics when a child...I love our valley and it is so pretty and clean today under a layer of fog and fresh snow Wednesday evening.