Friday, January 25, 2013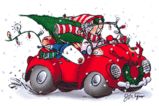 This morning was a continuation of yesterday. Started off with grocery shopping with a daughter, then took DJ to have his nails cut. Also, went to Lowe's and got 2 ceiling fans for daughter since some men from a church are helping with the remodeling of 2 bedrooms in her house. They will put the new fans up for her...the other ones were broken.
I think I am home for the afternoon and if or when 2 year old great grand daughter decides to take a nap, I just might take one too.