Lunch during the work week is always a tricky subject for me. I am really trying to cut back on buying lunch during the week #1 for calorie purposes and #2 for wallet purposes. I spend entirely too much money on lunch - which I usually never feel satisfied with and end up eating too much other crap the rest of the week. So this week I really concentrated on having healthy lunches and aimed for a goal of 350 calories or less. Want to see what I had?
Monday: Applebees Oriental Grilled Chicken Salad w/No Dressing & Tortilla Chips
*It was a little anniversary Monday so my hubby came and took me to lunch and who could turn down that kind of sweetness? And I made better choices than I wanted to like having a salad, picking grilled chicken and tortilla chips rather than a fried app. It wasn't under 350 calories but I felt good about making better choices.
Total Calories: 563 (350 for the salad, 213 for the chips)
**it looks like this except I had grilled chicken instead of fried
Tuesday: 1 bakery style roll, 2 very large pieces of deli roasted turkey breast and 1 serving of spicy nacho doritos
*No photo here but I wanted to comment that I am starting to figure out that I can still eat the things I love (ie: spicy nacho doritos!!) just eat the serving size rather than the whole bag!
Total Calories: 303
Wednesday: Fajita Chicken leftovers, Mission 8" tortilla and a tiny bit of Kraft Brown Rice left over from dinner (not intentional that's just all that was left)
Total Calories: 291
Thursday: Dole Spring Mix (salad), Almond Accents, Perdue Turkey Tenderloin (leftover from dinner Wednesday), Cuties California Cleminitine Orange
This was by far my favorite lunch of the week so I have a couple pictures to share. First, the calories breakdown:

And my salad: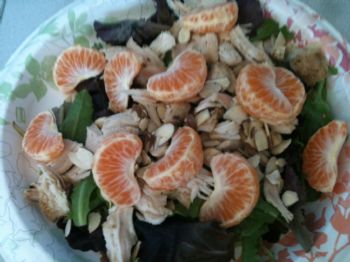 Also, the world's biggest cutie!! I had to count it as 1.5 servings because it was so much bigger than normal: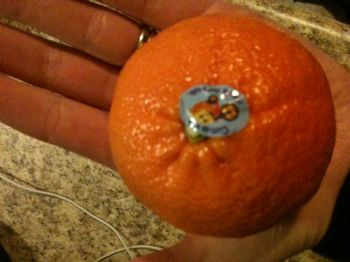 Total Calories: 260
Friday: Chick Fil A Chargrilled & Fruit Salad
This week has been more hectic than usual so I didn't prepare my lunch last night and I definitely didn't have time to prepare in this morning. I have a chick-fil-a gift card and I've never tried any of their healthier options, usually opting for the chicken strips and waffle fries. But this salad looks pretty dang good and has grilled chicken instead of fried so I'm gonna give it a try.
Total Calories: 220
With this week under my belt, I'm ready to make next week even better!