Time for some housekeeping; something I've been meaning to do for a while now: get a little more up close and personal with my SparkPage.
In case you hadn't noticed, I've tried to keep my updates here on SP almost strictly business - pounds lost/gained, exercise done/not done, goals achieved/planned, measurements... it's felt like more of a track record of wishful thinking and numbers report than an update as to how I'm ACTUALLY doing in all areas of my life.
I've realized that I don't want to limit my presence here to just the element of weight loss. I no longer want to have a self-imposed requirement to withhold every other part of my existence because it isn't 'relevant' to my purpose here. Up until now, I've treated "My life" and "My weight loss" as completely separate entities (and often lost my focus on one when the other got exciting), but I'd like to strike a more harmonious balance for them to coexist.
So, here's my plan: I want to change that turning my SparkPage and blog posts into an accurate reflection of me. The more content I can add to it to make it feel like "home", the more comfortable I'll be, the more time I'll want to spend time here, and the easier it will be to integrate my weight loss efforts into all aspects of my life, both on and offline.
In non-weight-loss news, here's what's been happening with me lately:
On December 22nd, I decided to finally get the conch piercing I'd been mulling over for a couple of months: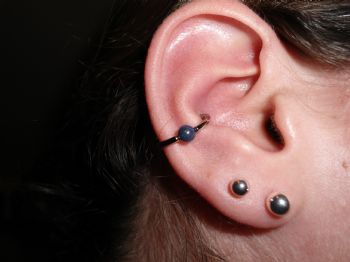 I adore it; it's so interesting! I haven't seen a lot of people with them, so it feels rare and extra-special. Plus, I feel a lot more head-balanced now that I have three holes in each ear, lol.
Getting the 14G piercing didn't hurt anywhere near as much as I was expecting it to - just five seconds of pain as the needle went in. I was more unsettled with the piercer was hovering over me closing the hoop than I was with the actual piercing! My ear bled for a while afterward, so I had to stay for an extra five minutes in the chair while we waited for it to clot. The piercer told me that despite what it seemed, this was a good sign - it meant that I have thin blood and therefore good circulation to the area, so it'll probably heal much quicker than expected.
Almost two months later, it's doing quite well. I've been cleaning it with the salt water soak 3x/day as advised and it only feels tender when it accidentally gets touched, otherwise I don't notice it at all. It'll probably take another couple weeks of healing time before I can comfortably sleep on it, but it's healing wonderfully.
Right around the same time as my conch piercing, my husband Josh and I were out pawn shopping and I picked up a PS2 game that sounded interesting - Tales of Legendia. It turned out to be an awesome investment!! It had been YEARS since I last played a video game all the way through, so to have one capture (and hold) my attention after so long was pretty incredible. My Siamese cat Ying loved to snuggle up in my arms when I'm laying on the bed: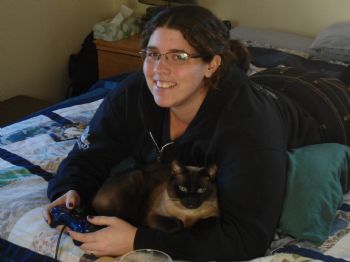 Laying down is is NOT a good position for posture, though. My back was SO sore after a week of playing like that. I've since switched to sitting up straight with my back propped against the wall. Ying curls up in my lap now. So cute!
Our little kitty is so spoiled. During the wintertime, we erect a "house" for her in our living room in front of one of the heating vents that she likes to sit in front of to keep warm. This year, we built her a structure made of old plywood board and covered it in fuzzy fleece: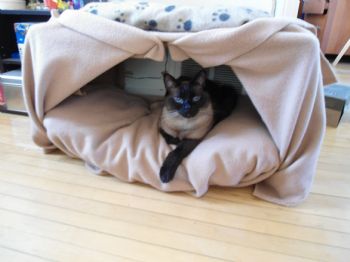 I've been pretty jealous of it, actually. I wish our apartment had fuzzy walls to guard us from the -40 temperatures we've had over the last few weeks!
Last night, I made an investment that I'm hoping will make the winter a little more tolerable - a gigantic pair of super high-quality winter boots: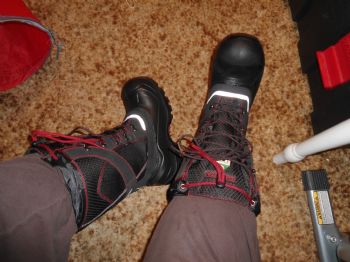 They're Dakota brand women's safety boots recommended for people working in construction & trades. I probably don't need such heavy-duty footwear, but I wanted something quality that could withstand a lot of Canadian winters. These boots are tall, stylish, super comfy and warm!! I might be $200 poorer but I think I've definitely made a worthwhile investment. These are so sturdy and seem pretty indestructible - I might even be able to pass them down to future generations!
My postcard wall has grown! This is what it looks like now:
Approximately 200 cards sent to me from all over the world through Postcrossing.com. Such a fun hobby! If anyone is interested in exchanging cards, send me a SparkMail with your address info :)
My weight loss progress has been slow, but I'm more focused on it now that I've made my New Year's Resolutions public.
I've been doing well with my food consumption (conscious eating, minimal sugar and dairy) but haven't gotten back into an exercise routine yet. It's so hard to get started when the temperatures are -40 and it gets dark at 5pm! (Excuses, excuses... I know.)
I might be off to a slow start, but I haven't lost sight of my goals - it's GOING to happen. I'll be back in ONEderland by the end of this year, no matter what it takes. Guaranteed.