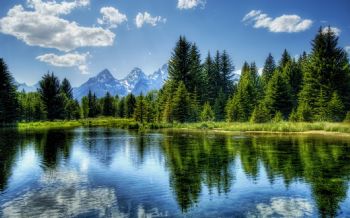 Nature heals.
Now, Iím not saying youíve got to get outside and exercise (although if youíve got it in ya, have at it!). You donít need to run flights of stairs like Rocky, or bike around the world like Lance Armstrong.
If you just get outside you will notice something different. Immediately.
The air smells different.
This may seem like a small thing to you, but itís actually a game changer. When you stay cooped up inside all day every day, youíre breathing stagnant air. The air outside is fresh (OK, not talking about downtown in a major metropolis, but stick with me here), and full of life.
Nature is another key aspect of the great out of doors. Again, Iím not saying drastically change your lifestyle and start camping every weekend. But make the effort to get out into nature. Plants and trees are living organisms and they give off life. Which you get to breathe in.
Nature also has a calming influence on our energy systems. You know how you feel when you sit and watch the ocean, or the wind whispering through tree boughs? Itís soothing, itís rhythmic, it calms your soul and brings healing to you.
We were designed to be outside. It keeps us grounded.
If you live in a place (like I do) where getting outside may not be as enjoyable as Hawaii or somewhere warm, that doesnít let you off the hook. Grab your umbrella, strap on your gear, make sure you are comfortably warm, and get.outside.
The second element in this prescription is play. Donít make it a chore. Make it fun. Make sure to laugh. If you are lighthearted your healing will come naturally. What healing, you ask? The healing you need from being inside way too much and working way too hard.
This may start reading like a responsive church reading where the pastor reads a statement or verse from the Bible and the congregation responds in unison. But thatís OK. When you are working to exercise change in your life, you must focus and reprogram your brain. One of the ways to do this is with repetition.
If you find it tough to get up in the morning and you canít seem to get motivated because you feel youíre stuck in a dead-end jobÖ
*Get outside and play.*
If you regularly experience brain fog and canít remember what you ate for breakfast, or where you put your car keysÖ
*Get outside and play.*
When nothing seems to be going right and youíre surrounded by people who seem determined to keep you downÖ
*Get outside and play.*
When you start complaining and canít remember what youíre grateful forÖ
*Get outside and play.*
When itís a struggle to get dinner on the table or keep the kids from bickeringÖ
*Get outside and play.*
When your body aches and your weight keeps creeping up and up and upÖ
*Get outside and play.*
If you are looking for a change, this is a great way to start small and begin to see results. You donít need to make drastic changes. Make small consistent changes over time. Youíll be glad you did.
See you on the outside!
Much Love,
Jen