Good Morning!
Today, I decided to do Cathe's Xtrain Disk 1, Chest, Back and Shoulders.
Here's how my workout went!
Warm up
Round 1
Tempo Push up
One arm Rotational Row 30#'s
Side Leaning Lateral Raise 7.5#'s
Round 2
Dumbell Press on Ball 25#'s
T Band Pull
Shoulder Circl 5's
Round Three
Reach Tap Push Up
T Prone on ball 2 X 12 - Those were heavy
Seated Alternating Dumbell Overhead Press 15
Round 4
Chest fly on the Stability Ball 20#'s
One arm Row with Tubing
Bent Over REar Delt Drop Sets(16/12/8 reps) 2X10 - Wow! that last set was tough
Round 5
Lower Chest Incline fly on the ball 10#'s
Dumbbell Pullover on stability Ball 30# DB
Double arm upright row 2X15
Round 6
Incline Dumbbell Press on stability Ball 30#'s
Back Fly on stability Ball 12#'s
Dumbbell W Press on ball 12#'s
Round 7
Three Way Chest Fly 20
One Arm Row 25
Simultaneous Incline Hammer Front Raise on ball 7.5
Round Eight
Push UP
Super Man
Lateral Raise 7.5#
Stretch
Oh yeah...that's what I needed. Kind of feel the same way I did after my Ride this weekend. I like it!
A lot going on in my world. Things from the past are popping up...people, places and things. I'm really not liking it to much and I'm starting to feel a bit overwhelmed.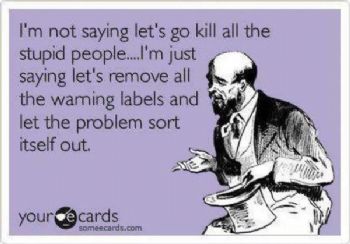 And this is about how I feel on the situation....

Anyway....I got my workout in this morning and that's really a great way to start the day. Going for a long ride after work to pick up a chest freezer...cuz we're gonna buy a quarter of a cow...next month to help our budget and pay off some more debt. Go us!!!!!
Hope everyone has a Fantastic day!