Tuesday, January 22, 2013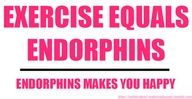 I'm going to make this brief because it is almost my bed time. Working out makes me feel so good! I love how I feel despite how I may look after my workout. I feel so energized despite my hair being plastered to my forehead due to the sweat. Tonight, I did the Firm Sculpt Turbocharge (which kicked my butt) and walked on my Treadclimber for 25 minutes (my Daily Mile Challenge). Then, being able to put my star by me accomplishing my workouts brings such satisfaction. Love having the sense of accomplishment! After my workout, I gave myself a facial and a pedicure to rest my feet! These little rewards to myself make it all of this so worth it, because I'm worth the effort I make each day to be as healthy and fit that I can possibly be! I refuse to give up on myself because I had an okay week last week. So, here's to working out!
Now, I have to continue my streak of getting 7-8 hours of sleep! Good Night All!