Tuesday, January 22, 2013
When I saw this SparkRecipe for Zucchini Chips,
recipes.sparkpeople.com/
recipe-detail.asp?recipe=2
185737
I thought that zucchini chips were just begging to be dehydrated instead of nuked in a microwave (as my mom calls it). I was so excited to try these chips, so I bought some extra zucchini at the grocery store on Monday, and I had my first zucchini chips as a snack today at work.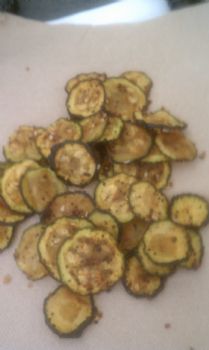 Well, they most likely will be my last zucchini chips. I do eat zucchini in soups, spaghetti, and some other things, but I realized I don't necessarily appreciate zucchini as a standalone dish, despite the yummy spice blend I added to the chips.
Oh, well. Tomorrow some new screens for my dehydrator will arrive, and I'll finally be able to make buckwheat crispies! I'm certain I'll like those!