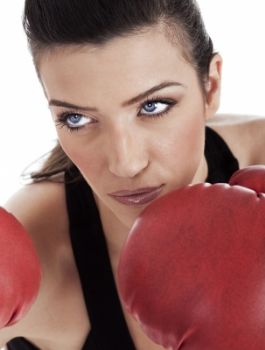 Out of shape and out of time? I've got good news for you. Just like liver and onions, the old news about exercise and fitness isn't true.
Did your mom force you to eat liver when you were young? Mine did. I am not what you would call a picky eater. I eat practically everything and there are very few things that I can't choke down. But liver was one of those things. It was gross! I used to cover it in ketchup just to not throw it back up.
My mom administered this torture upon me and my brother because at the time liver was thought to be very healthy to eat. She really did have her heart in the right place.
But seriously…
the years of therapy to overcome that trauma just wasn't worth it.
Several years later it was discovered that liver was not only unhealthy to eat, but was actually a bad idea to eat! Thinking about it now makes a lot of sense. The liver is the organ that detoxifies the body of waste and toxins. So guess what you're eating when you cut into a big old slab of liver? Yup. I'm grossing out just reliving these traumatic memories.
In the same way that science and the onward march of progress came to my rescue with liver, the exercise and fitness realm has also had a rehaul. This is great news because there is a lot of old school info floating around from back in the day that isn't healthy for us new millennium-ites.
Specifically I'm thinking of the time required to achieve results from workouts.
In the olden days, we were told to have a warm-up period before working out, a maxed-out time while working out, and a cool-down time afterwards. On the low end that would take an hour. We were told to push it to the limit, no pain no gain. Come on, three more, YOU CAN DO IT!
People got burned out, or felt like failures, because it seemed unattainable, hitting that peak at just the moment when you achieved perfect heart rate range. Too high and you were overtraining and would experience no results; too low and you weren't training hard enough, so again, no results.
Forget it. Just stay on the couch and hope for the best.
That type of exercise resulted in knee issues, shoulder problems, back problems and other chronic pain.
Well, all that is old news. The latest discoveries in fitness show this:
Less is more.
No really! There are several fitness programs that show you how to work out less, but achieve more results. Two readily come to mind.
The first is called the 7 Minute Workout, and it takes…drum roll please…7 minutes 3 times a week. It sounds a little silly when I write that, but I've done this program and it is for real!
I know, I can hear you. "How can that POSSIBLY work?"
It has to do with the science of how our muscles work. When you work out a muscle, you are breaking it down. Then when it builds back up, that's when you get stronger, bigger, leaner, etc. The problem is people typically workout again on that same muscle before it has a chance to rebuild. If adequate recovery time is not given to the muscle, it will not improve, it will fatigue. The 7 Minute Workout provides each muscle a ten day recovery period! Therefore you only have to workout for a short time and give the muscle all the time it needs to recover. As your fitness improves…and it will quite quickly… the duration doesn't increase, just the intensity.
Step by step training is provided for each exercise routine, and there are programs for fitness newbies and competitive elite level athletes alike.
They have a very cool online setup where you get access to exercise videos detailing specific workout moves, as well as tracking software, and a recipe/menu builder. Simply login, click on the daily workout schedule, follow the 3-5 exercise videos for that day, and you're done…in 7 minutes.
You truly can get in the best shape of your life in 7 minutes, three times per week…guaranteed. Read my comprehensive review here, or purchase a membership here.
The other fantastic option is just as amazing. It is a total body workout which features a special sequence of comprehensive, compound muscle movements that are designed to put the body in proper functional alignment. Don't let your eyes roll back in your head, it really is quite simple. It's a physical therapy approach to fitness that is challenging and effective.
It's called T-Tapp, and it concentrates on helping the body rebuild digestion, assimilation, elimination, lymphatic function and neuro-kinetic flow. As your body tightens and tones, your energy, mental clarity and overall health immediately improve! Inches drop quickly since muscles are developed with density, not bulk. And you get results with only one set of 8 repetitions.
Once again, because this workout is so amazing, the claims are outrageous. And true. T-Tapp guarantees an inch off the hips or waist after a week of the full body workout! Read my comprehensive review here, or purchase the system here.
If you pick one of these fitness workouts, you will be absolutely amazed at your results! Put in the "time" and get the rewards. You're going to love your new body!
Much Love,
Jen