Human life is a jumble. Happy things. Sad things. Exciting things. Boring things. Pleasant emotions, and unpleasant ones.
Yesterday while joyously anticipating my son's return, I heard from his cousin, his dad's niece. Her mom is not doing well. This is the sister in law I've written about before, the one I run for, who has been robbed of so much of her life by ALS. She has contracted pneumonia. And they made the decision to stop feeding her by tube. She still gets water (kidneys are still working), and meds, of course.
But it is only a matter of time. I went over to spend a few moments, just standing there holding her hand, talking of little, encouraging her to rest. I did share that my son's out of harms way and on the way home. Her gaze would wander to the photograph of her own son, who passed away almost two years ago now.
Having read some of the near death literature, I wondered whether she could now see and commune with him... she seems quite at peace. She can still hear us, but now even her breathing is mechanically assisted. She can squeeze hands a little bit.
And what struck me yesterday is that despite all the disease has done to her body... she is still a beautiful woman. Love brings out beauty, you see. This photo is from a younger time, of course, but I can still see this woman.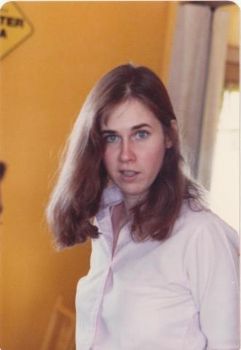 At one a.m. or thereabouts I got the boots Stateside phone call. In about a week, I'll get my mom hugs. I'm praying also for hers, from a daughter before, from a son at her destination.
Life can be sad even while it is happy... but it is precious in all its moments. Take care of yourself today... so you will be there for your loved ones to share these moments.
Life is good. Spark on.