Man, I think I have a few things going on with my body at the mo'. I've been on my irritating and uncontrollable sleep cycle where I get stuck on REM and dream vividly all night, and fail to cycle through the rest of the sleep steps needed for quality, restful sleep. So. Awful. It's been almost a month at my estimation and finally I am to the point where I'm always sleepy. But, if I try napping during the day, the same thing happens. Stuck on REM. No real benefit.
Also, about a week ago... or maybe 5 or 6 days ago... I ended up hitting the back of my calf on a heavy object and it hurt. So I figured it would leave a bruise. Boy, did it ever! I looked at it today (back of my calf, so not readily visible!) and it is UGLY. Purple, black, yellow... hideous! I'm surprised it still looks the way it does and is still the size it is after all this time. Which leads to me believe...
...I may have a bit of an iron deficiency right now. It could also explain my total lack of energy and strength (ya know, aside from the lame "sleep"). I don't eat very much red meat, liver, shellfish, or vegetables that are full of iron. Not that it matters. Your body only absorbs less than 12% of non-heme (vegetable sources) iron at a given time. Heme sources (animals/meats) get absorbed better at about 20%. Eating iron with vitamin C ensures your body absorbs that iron. So, what I need is a big thing of beef liver covered in strawberries. Yum.

Tomorrow is the last day (I think?) that I can find out whether or not I've gotten into that stats class. I really need to get it. For one, I am terrible at math and having a fun class (photoshop) and a hard class will make this semester bearable. Secondly, all the classes I have to take are going to be hard, so I don't wanna take a million hard classes each semester. This would help to lighten my load. Third, if I drop below half-time status I have to start paying back my loans. With what money? Yeah. Exactly. Not a good situation. Since I enrolled at the college so late, there weren't many classes that were open, so I've literally signed up for all that I could that was still available. There were many, many empty seats in my class on Thursday, I'm now #3 on the waitlist, and if there are still empty seats Tuesday night, I get to be in the class. I'm hoping that's how it goes. Keep those fingers and toes crossed!
I have some disappointing things already going on. Thanks to these classes, I won't be able to sing this semester. Before I moved to SD, the choir I sang with met on Sunday nights at my old high school. Sometime between then and now, they changed that. They now sing on Monday nights at the community college. Unfortunately, at the exact same time as my photoshop class. Then, my old theatre teacher sings with the other group, which is smaller, more "elite" so to speak, with more advanced singers. This group very often sings with the choir at concerts and whatnot, as they both used to be under the direction of one person. The group used to meet at the community college on Thursday nights. Now, it meets at my old high school! Unfortunately, at the same time as the stats class. I really wanted to get back into singing since its been about 5 years. It was something I enjoyed doing as a hobby and wanted to get back into while I'm here. So, boo on that.
I haven't heard about a job. I've sent my resume off to a few places, but without a car, I'm really limited to where I can apply. Especially when the summer hits and the temps soar to 110+ degrees outside. Not really a walkable temp. People die in that kind of heat. Also, there isn't much out here. This area has one of the highest rates of unemployment in the state. I don't know much Spanish, which already puts me at a huge disadvantage. This is the sort of place that you need to know people to get your foot in the door. It's been so long for me, I don't know anyone anymore. I'm still going to try, not giving up... its just discouraging, as it has been so far. Also, I found out I have to go to my previous school IN PERSON to apply for and pick up (when it's ready) my DSS certificate. Really?!?! REALLY?! That is going to constitute taking a trip, on a weekday sometime, and coordinating a ride or a car rental... So seriously disappointed to hear that.
In the meantime, this tiredness and weakness has prevented me from starting on some things I've been wanting to start on, namely finishing up my room organization and such and getting the kitchen up to my standards. Also, figuring out a fitness routine. So, either I gotta get a steak and some oranges, figure out this chemical imbalance effecting my sleep, or I gotta suck it up and prepare to fall on my face to get ish done. Word.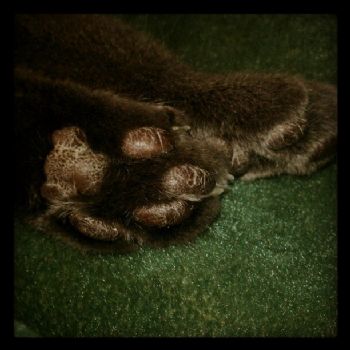 Here's some cat feet. She's still not adjusting well here.