Monday, January 21, 2013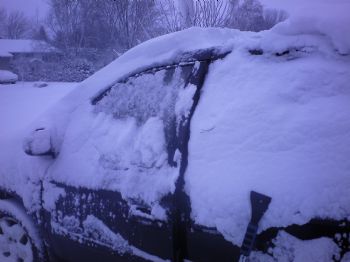 I took my Dodge Caravan off-roading yesterday. Apparently it's not an off-roading vehicle. I bet if we weren't in Canada in the dead of winter it could be...
Footage of results can be viewed at...
www.youtube.com/my_video
s_timedtext?video_id=9ZHf2
hEosIU
Day 8 accountability.
How I am losing weight is an absolute enigma to me. I'm BARELY staying in range, chewing gum like a baseball player chews tabacco and I discovered 154.2 smiling up at me from the scale. I think it was God's way of keeping me sane since the running total to maintain our vehicles for the month of January is $4000.00. (not including gas at 1.18/liter) I do NOT make enough as a maid to have these lemons in my laneway. I may need to invent teleportation. Stat.
Portions: Decent. I'm dancing around 1600. Except last night when I celebrated cheating death with a bag of corn chips and a can of knock-off rootbeer. Next time I almost die I'm hitting up the L.C.B.O. (Ontario liqueur store...Tequila is NOT overrated).
Water: 10 cups...BOO-YAH!
Sleep: Shhh....let's not dwell on the negative
Attitude: Absolutely fabulous. I love life. My hubs called me tonight to hear of the car doctor's prognosis but, because I have a son that was suspended from school for getting in a fight (Cops & Robbers does not mind their "Hands Off" policy, F.Y.I. my son was the cop), I didn't care to check.
I have no clue if I'll be walking 40km to work on Wednesday...I don't care!
I.am.alive.and.that.is.AWESO
ME!