It's a good day for a rambly lots-o-stuff sort of post, so here goes! First off: new shoes!!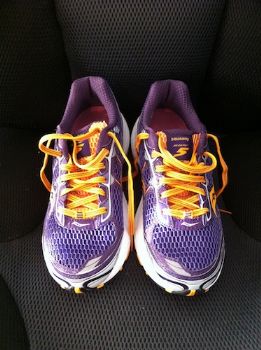 After my 10K/Half-Marathon last weekend, my knees, shins, and hips were hurting a lot, especially after every time I put on my running shoes. I'm not a shoe person. I don't have a million pairs of shoes. In fact, before this weekend, I had a couple pairs of dress shoes that I rarely wear, a pair of sandals for the summer, and my running shoes. Period. So I wore those running shoes everywhere - to the doctor, to the grocery store, to family functions, etc - and that adds up to a lot of miles very fast. They were definitely in need of replacement!
My experience at the store was fantastic, because the person who came to help me just assumed I was already a runner. In the past, running stores have assumed that I was looking to start running when I came in to get shoes, so it was a completely different experience this weekend to have someone assume I already ran and start asking questions about my normal miles per week, pace, terrain, favorite distances, etc. I haven't been treated like an athlete by a stranger in well over a decade, so this was an awesome experience!! So very happy.
And I love my shoes too! I took them out on a new-to-me route yesterday that included a 5.5-mile run (and one 0.75-mile section was sharply uphill the whole way, eek!). The shoes felt great, and my pace was faster than last week's distance run - 12:50/mi, or 1:10:38 total. Not too bad!
Next up on the funstuff list: Cooking! I've been doing a lot more of this lately, or at least helping us to try new recipes (Jason does most of the cooking in our house). I've been experimenting with the Sparkpeople Cookbook, and have loved almost every recipe I've tried from it. My favorites have been the Braised Mexican Beef with Crispy Corn Tortillas and the Roasted Root Vegetables, except with the latter, we use onions, carrots, and rutabaga (my fav veggie) instead of the veggies called for in the recipe. I could seriously make a huge pan of my roasted veggies and eat it by the cup all week long!!
Then yesterday, Jason taught me how to make one of my favorite meals - an intricate, veggie-filled bolognese sauce:
tastykitchen.com/recipes
/main-courses/pastor-ryane
28099s-bolognese-sauce/
This sauce is better than any bolognese I've had in a restaurant, and it was fun to cook it together with Jason this weekend.
Next up: Dimples! Specifically, shoulder dimples. :D
Now, dimples - unless on the (facial) cheeks - aren't normally associated with being skinny, however, I can't tell you how happy I was to discover this weekend that I have shoulder dimples again. Back when I was a swimmer in high school, very thin and very lean, my shoulder muscles were so defined that I had these sharp dimples in the back of my deltoid muscle. I'm not sure why they were there, but I lost them when I lost muscle tone and gained fat. Now, they're coming back! I tried to take a picture of what I'm talking about, but none of them came out right, grr, so this will be a completely picture-less rejoicing. :D Another NSV to put on my list!
But speaking of pictures, I do have one to show for Funstuff #4: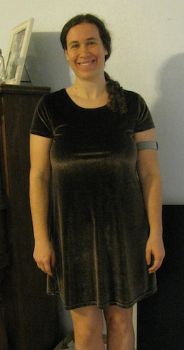 I discovered this weekend that this particular dress fits again! I last wore this dress at 150-155 lbs in late 2002. I'm actually not sure how it survived The Great Purge. The Great Purge happened when I was moving from Wisconsin to Texas in late 2005. I was so frustrated with my ineffective weight loss efforts that I decided to donate all my too-small clothes to a charity shop before we moved. I kept a few sentimental items, like my wedding dress, but nothing else, even the clothes I adored for years in my late teens and early 20s. It's one of my biggest regrets - I so wish I had those clothes now!! This dress, however, survived, and I'm not sure how or why, because frankly, I only wore this once and had no attachment to it at all. Still, I'm glad to have it now. Jason and I want to dress it up with a cream sash under the bust, cream-colored tights, and some nice comfy dressy shoes. If we manage to do that before I outshrink the dress, I'll post an updated pic! :D
And then, last night, while I was showing Jason that the dress fit now, I decided to try on my "before" pants. They are size 24W, and YES YES YES I can stand in one leg now!!! They were tight that way, but I now fit into half of my size from before. Woohoo! No picture for this yet, because I want to take one once I hit my goal weight.
And lastly, funstuff #5: I ordered a Fitbit. Now, I already have a BodyMedia Fit, and I've really liked it for the most part. However, I have very sensitive skin, and something in the metal contacts is causing my skin to break out in painful rashes, even though I keep the device off for at least an hour every day. I really don't want to lose it, but I don't think I can wear it much longer. I've ordered the Fitbit and will compare the two once it arrives. I hope they will be close enough that I can just use the Fitbit and sell my BMF. The BMF has been so good for me in helping me know how much I'm burning in a day, but if it's hurting my skin, I have to go with the information I've gathered so far rather than keeping it. I just hope the Fitbit ends up being pretty accurate!
So that's all! I hope you're all having a great holiday weekend!