Sunday, January 20, 2013
This has been an interesting week and not one of my best for fitness. I had to have a nerve biopsy to check how much damage I have in my feet. My leg has been sore all week from it and not real happy when I walk or use it too much. So I have been babying my leg and not doing a lot of working out

I had been doing the January Jumpstart Challenge and over the last week I completely fell off of it. becuase of time constraints and the biopsy I was unable to do the videos and I stopped logging into it. I started to feel like a total failure for not keeping up with it (which lead me to avoid it even more). I should have started week 3 on Wednesday and instead I never logged back in

It is taking some inner talk to make myself realize I am not a failure, I can still keep going and losing without logging in. This does not make me a failure, at least this is what I tell myself and hopefully soon I will believe it.
Then on Friday my first grandson was born! I cannot even begin to express how thrilled I am

He is so sweet and I am looking forward to being a grandma.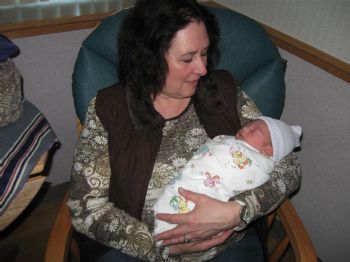 This threw my sleep schedule off for the last 2 days though and yesterday I did not eat as good as I should have, but over all I did ok. And just look how sweet he is

My goals for this week are to continue to take it one meal, one moment and one day at a time. I will get my exercise in and I will be conscious of everything I eat and continue to choose wisely.