One of my other hobbies is ham radio. My interest got started with radio stuff when I was a teenager. My grandmother bought me a transistor radio, which had a short wave band on it. I used to lie in bed at night and listen to the distant AM radio stations from the US and overseas. Also, I heard the shore stations sending and receiving morse code to and from the ships at sea. I was fascinated with the patterns and wondered how this strange language worked.
Years later when I joined the Navy, I tested high in morse code aptitude, and was offered "Radio School". I did well with the morse code, my electronics not so well. I passed school and was sent to the Panama Canal Zone at Navy Radio Balboa, and was assigned the CW (continuous wave, or morse code) station quickly. I rapidly progressed to high speed CW, and have loved morse code ever since.
So the years passed, and I got my ham radio ticket, and I continued with my love of CW. I often operate high speed. There are few people who do this kind of speed, and it becomes necessary to go much slower if you want to accommodate and communicate with others via morse code. However, one must exercise high speed if one desires to maintain this level of speed. It can be stressful operating at just above ones maximum speed, but that's how you improve. For what it's worth, I am talking about 40 to 50 words per minute, a very fast pace.
So, all this typing to express what I have found to be, the similarities between CW/morse code exercise, and running exercise. The paces in each can be stressful or relaxing. But both paces are necessary to maintain a useful fun filled stride. To backtrack for a bit, I cannot compare my skills in running to my radio skills, one is average - the other is excellent. But, the comparison remains, regardless of skill level.
I thought about writing this blog when I participated in a radio exercise on January 1st of this year. We had an event called "Straight Key Night" whereby ham operators are asked to get back to their roots and use a hand key rather than an electronic keyer.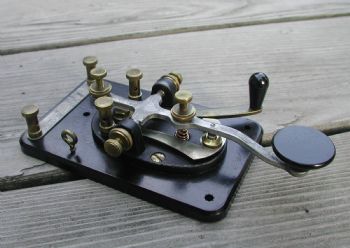 To chat more and relax more with other like minded hams. This once a year event is very popular, and there were lots of straight key operators on that night, and early the next day. I talked to 14 different stations and had a swell time. This pace for me, in not uncomfortable, and enjoyable. Even though I am capable of the higher speeds, I acclimate myself to the pace and enjoy.
There can me much enjoyment in the excitement of fast pacing and knowing you are in an elite category of participants. And, the converse is true, there is also much enjoyment to be gained in the slower stride of just enjoying a hobby for the sake of doing it.
I hesitated to write this blog, because it necessitated a longwinded explanation of ham radio. My first draft was really long, so I shortened it a lot. If you've gotten this far in the reading, thanks for sticking with me and I hope you've found it interesting.
Thanks for reading and have a great day.