RESTorative YOGA
Sunday, January 20, 2013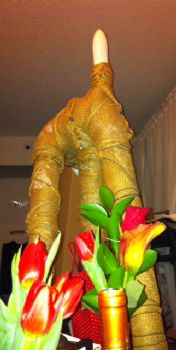 Fancy Red Spring Flowers
I've had a peculiar week. It began really well. We used tone for the first time in class this week and so this was a big deal for students who have been working in line for four months and were chomping at the bit to get into using value on their drawings. I did a fun demo and they followed along with me then we put a spotlight on the model and turned all the lights out (but a few lights on behind everyone so students could still see what they were drawing) ... this is always a favourite class.
I put on my Canada Goose 3/4 length coat and walked 2 miles to my first restorative yoga class and then 2 miles back afterwards. What a wonderful afternoon that was. The class was so relaxing and the new Chopra Center down by the lake is luxurious. I am very glad I took out a membership.
On Thursday I slipped in a dark hallway at school and reinjured by back. I am trying not to think about it and am attempting to do all the right things so I can get better. UGH! I don't like taking pain killers but when something like this occurs I have to.
I am optimistically hopeful that this will resolve itself soon ... I have had to take a day off again and will most likely need to continue taking more time off to fully heal ... I'll be seeing my Doctor as soon as I can get up and out (I've already talked to them about it - I know the drill).
Hope everyone is enjoying January and keeping on track with goals. Slow & Steady!