Today was one of the most uneventful days of my life. Well, not true. It still stared with a weigh in that stated the same (all time low) as yesterday- thank god. For a minute I thought I was dreaming yesterday and it would shoot back up today.
I watched the kiddo like normal. I cooked. I cleaned. I did an impressive amount of strength training (in my opinion at least), but still was careful with the tape I still have on my shoulder. I must say it held up pretty darn well, but I could tell that week without arms hurt me a bit. Things were a lot harder than I remember then being- especially dumbbell rows- oh lordy.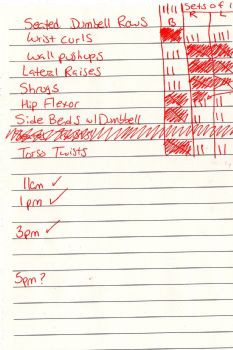 I tallied up how many sets I did, 10 reps each. I stopped when my arms had clearly had enough (popping noises are never good). Putting times that I would come back and do more held me WAY more accountable to do multiple sets and reps.
Still, it's one of those days where you look at the clock and you're like, "5pm what? I didn't DO anything!" Probably feeling that way because it's Saturday. I always get a little down on Saturday because it's not my weekend since hubby still has to work, but everyone else around me is taking time off with their families- so I don't really feel like intruding their family time.
Anyway that's all going to change soon because my husband got a new job!

Same company, different position. He is moving OUT of the call center (thank god) and into the corporate building for Dish Network, which is ironically about 2 minutes from where we used to live in our old apartments. Think of the gas money we would've saved. He literally could've WALKED to work and back home for lunch!!

Oh well.
Food wise, I did fine. If anything I think I might be catching a little stomach bug because I would make something that looked really tasty and end up eating 1/4 of it before it just made me really nauseous. Even water today has been tough to get down. The good news is if I am getting sick, I might have the next two days to take it easy and pass off dear daughter to my husband.
I think that's about it. Nothing much to report.
Happy sparking everyone! Have a healthy and safe weekend!